When I see my little one naming all the colors of her nesting blocks and say to myself – "Education would be so much more easier if was always this fun!" I don't know how it is going to shape up as they grow, but right now, I do all I can to make it fun for them. I believe the best part about being actively involved in your education is that we can teach them throughout the day with real life examples. No need to set a time and pick a book. Here are some fun, everyday ways to improve maths skills in kids that I have made a part of my parenting lifestyle.
1. Restaurant Menu
One fine Sunday morning, when nobody was in a mood to cook, I walked down with my son to get some breakfast take-away. While we waited for the fresh steamed Idlis to be packed for us, I noticed a large menu board placed on one side. At first my son began to read it and point out silly spelling mistakes. But then, I thought of a Math game. I pretended to be a customer at my son's restaurant. I would come up with different orders like 1 Veggie Delight Pizza and 1 Chocolate Shake. My son would find the items on the menu, note their prices and do mental calculation for the amount I needed to pay.
This has since become our favorite game. We do it every time we are at a restaurant and the kids also play 'Pretend Restaurant' at home. I make it more challenging for my daughter by adding in imaginary people who order multiple quantities and also include a tip.
Skills: The prices on a menu are always rounded off so it is easier for kids to begin with mental maths addition. Older kids learn multiplication, addition and also percentage (tipping).
2. Shopping
I mostly shop online or in bulk at supermarkets. But with kids, there is always something to be bought. They run out of glue or they need chart paper for school projects. When going to a store to buy a few items – say 2 to 3, I let my son or daughter add up the cost and pay the shopkeeper. I do not hand over the exact amount to them. I give them my wallet and ask them to pick out the currency note that they think will cover the costs. They are also required to check if they received the proper remainder amount back. For easier totals, I let my son pay, for larger and complex amounts, I let his big sister do it.
Skills: This encourages knowledge of addition, subtraction and money handling skills in addition to responsible behavior.
3. Counting by Sorting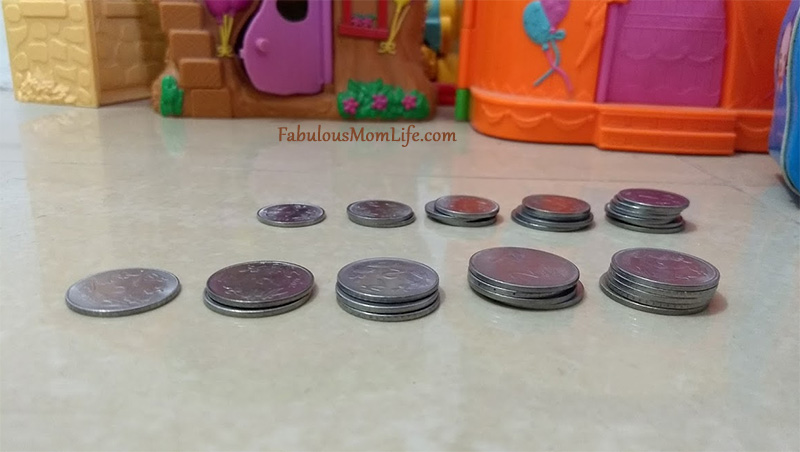 I carry a coin pouch. We all have one where we manage the change. Every month or so, I ask the kids to count the change by sorting it into stacks in increasing order. For example, one stack would contain 1 5 rupee coin, the second would contain 2, the next would contain 3 and so on.. Then instead of adding them up normally by counting them, we use tables to add up. The kids learn clearly what multiplication tables are all about. Instead of simply learning "5 ones are 5", the kids actually see the coin stacks and understand the concept.
Skills: This is a fun way to teach tables of 1, 2, 5 and 10 and clears their concepts which help them learn other tables eventually. Also helpful to learn sorting and counting for preschoolers.
4. Pizza Time
As hungry as they are when the pizza arrives, I take it as an excuse to teach them a little about fractions and division. I ask the kids to divide equally between the number of members. I teach my son the concept of how he just picked up '1/8th of a Pizza'. For my eldest daughter, I make it a little more complex and ask her to divide unequally. For example, I ask her to leave 2/3rd of the pizza for us and then share equally the remaining with her brother.
Skills: This everyday activity clears the concepts of fractions in real life and also teaches about shapes such as a circle, pie etc. along with the idea of 'sharing' 🙂
5. Planning a Birthday Party
You did not think anything in my life could go without talking about a party, right! Well, if you follow my blog, you know I am crazy about planning kids parties. For the past couple of years, I have begun to loop in the kids as it gives them very good math practice. I enlist them to make guest lists and then help me plan the quantities of things that need to be purchased.
For example, if we need two disposable 'katori' or cups per person, how many will be need in all? If we need one glass for water and one for juice, how many should we purchase. We have 3 games and 5 prizes per game, how many game prizes do we need? If we plan to decorate one room, terrace and the main entrance, how many balloons would be need to decorate? How many kilos of cake would we need? Each child needs to carry home 2 beyblades from the Beyblade party or 3 cars from the Cars theme party so how many do we need to buy? If grown ups usually eat two 'bhaturas' and kids each one, how many should we make?
There are countless number of things to be done for a birthday party that involve numbers. I hand out the easier ones to my son and the more complex calculations to my daughter. And what kid wouldn't want to help planning their own birthday party?
Question: We have 35 guests on the list. How many invitations do we need?
Answer by my son: 35
Me: Wrong. One invitation for each family. Now sit down and calculate for Mamma how many different families people are coming from.
Skills: The kids end up practicing a lot of addition, subtraction, multiplication, division as well as reasoning skills (see above question) when planning a party.
6. Travel/Car Games
When traveling with the kids, we come up with easy math games. A very simple game is to spot the cars. For every black or white car that the kids spot, they get one point each. For every blue or green car (which are relatively less), they subtract one. Games like I Spy etc. can also be made fun by including the 'point system'.
Younger children can count different objects that they see on the way.
Skills: From basic counting to addition and subtraction, travel games can be made as complex as the kids are able to comprehend.
Math Skills in Toddlers and Preschoolers
In addition to the above, there are a number of activities that can improve and encourage math skills in toddlers and preschoolers. These activities promote easy concepts like counting and sorting. Here are some of the favorite math activities I do with m youngest:
1. Sing Number Songs like Ten in the Bed, 5 Little Monkeys, 5 Little Ducks
2. Sort toys by sizes or shapes
3. Matching card games
4. Stacking coins
5. Dropping coins into the coin box along with counting
6. Shape sorting puzzles and toys