Start early with books is what we are all told. But how exactly do you hand a book to a baby without it being torn (or eaten up!). My kids' earliest books were cloth books and I have also gifted some to my friends' children. They all seem to love them! Sharing with you our cloth books and how I made them (got them made would be a better word, because I am not a sewing-machine person at all!)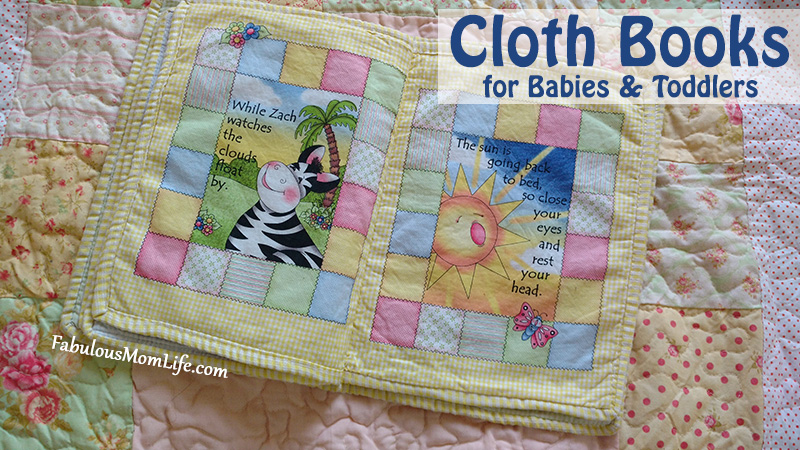 Cloth Books are perfect for Ages 0-2
In their earliest years, babies are not ready for real books. Even board books can prove hazardous for them in case they drop them on their feet. Books made of cloth are the safest alternative. Your babies can handle them anyway. You just need to toss them in the washing machine and iron up a little after that. If you hand wash, you might not even need any ironing.
My babies have loved 'reading' and playing with their cloth books. Here is a look into my cloth books.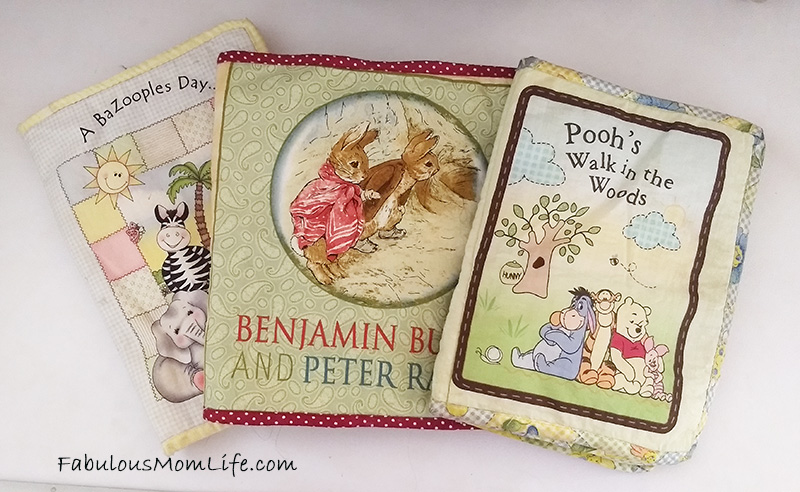 Winnie the Pooh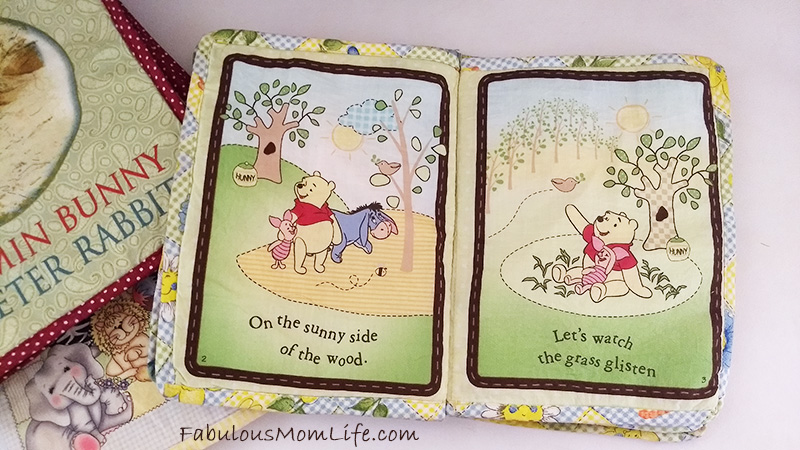 Winnie the Pooh was my son's favorite character when he was growing up. He even had a Winnie the Pooh birthday party!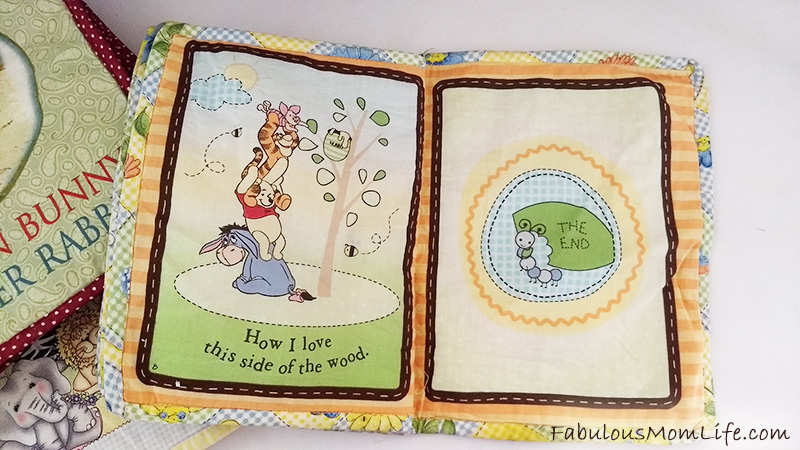 Peter Rabbit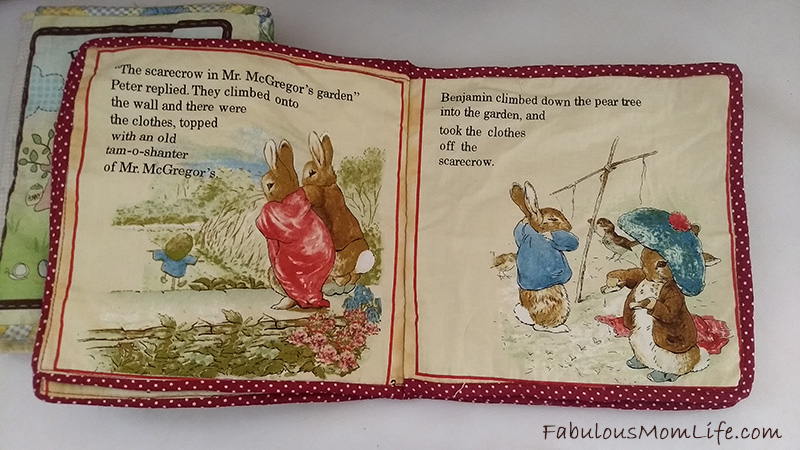 I was lucky to find a 'Peter Rabbit' book panel to make this one.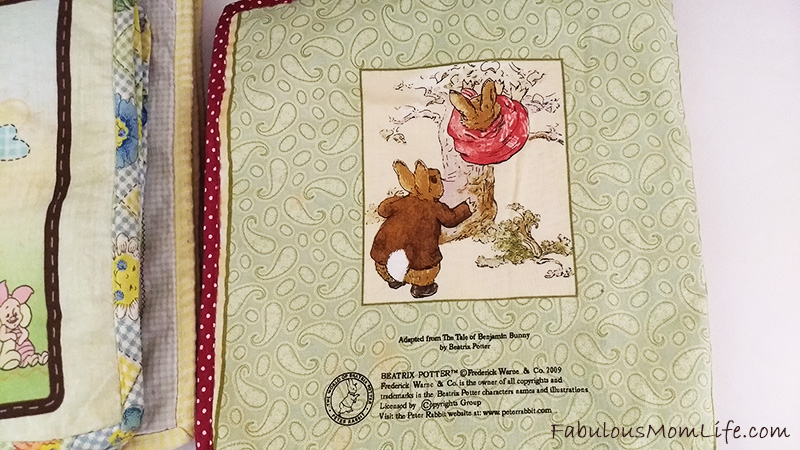 A Bazooples Day
The 'Bazooples' is a very popular theme with baby quilt and bed linen makers. Cloth printed with Bazooples graphics is easily available in American craft stores to make baby furnishings out of.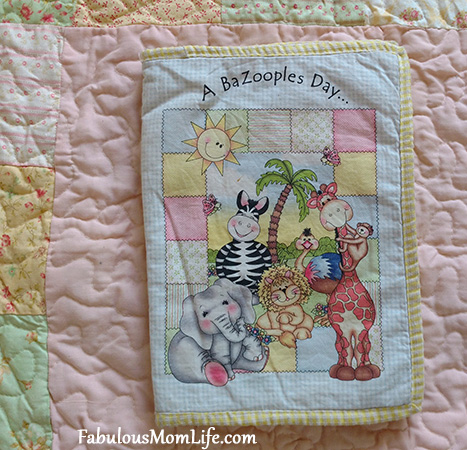 This particular is a favorite because of it's soft colors and lovely graphics.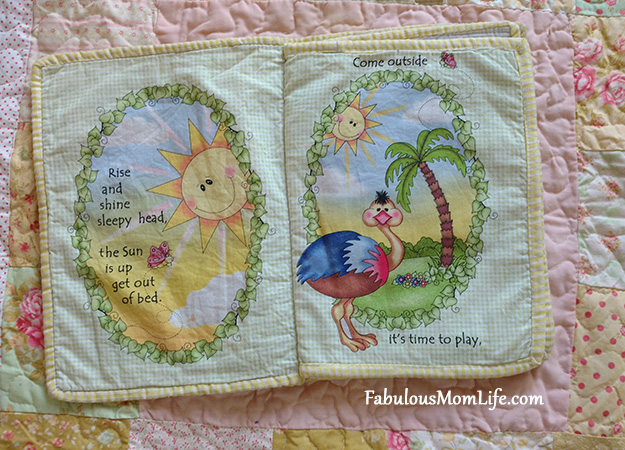 As the kids grow older, they recognize many objects and eventually the animals as well. They love to spot the sun in every picture!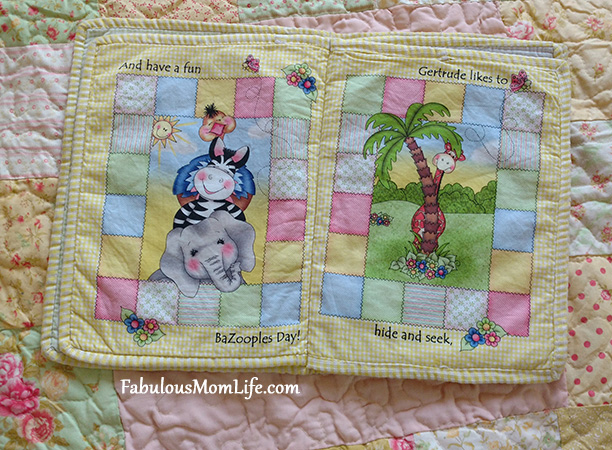 Other than these, I have also made character books like 'Bob The Builder' and 'Dora the Explorer' but these were given as gifts and I was not foresighted enough to take pictures.
Cloth Books in India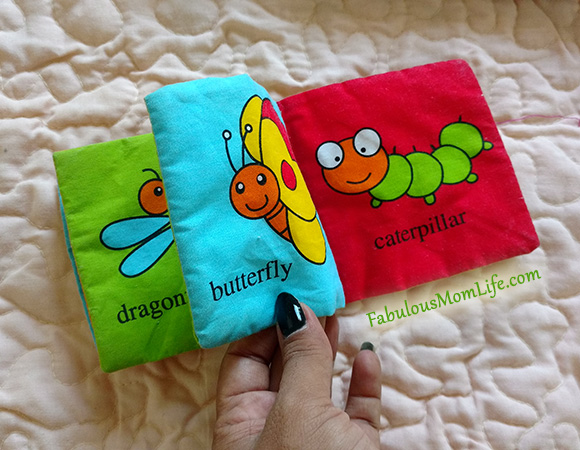 Cloth books are also readily available in India. I found some on Amazon India. But most cloth books available in India are very small in size. These make very good baby toys to carry in the car and in their diaper bags for any time play. The books are crinkly and make a sound on being squeezed or pinched and the babies love it. They do not contain any stories, but only pictures and are suitable for babies up to 6-8 months of age.
There are also some large sized books available on Amazon but they all need to be imported and are very costly. It is easier to buy cloth panels from Amazon USA and get the books made here.
Full Sized Books with Cloth Panels
My own cloth books are large and I got them made using printed panels. These panels are large pieces of cloth (almost the size of a toddler blanket) with all the pages of the book along with the front and back cover printed on them. You need to cut up the 'pages' and sew them into a book.
I ordered my own 'book cloth panel' from Amazon.com and eBay USA, got my tailor to quilt it and turn it into a cloth book. Here are some examples of cloth book panels:
It is also very easy to personalize the books. You can simply get the name of the child embroidered on the book 🙂
Activity Cloth Books
There is so much more you can do with cloth books than just read. If you are a whiz at sewing, or know someone who is, or have someone visiting the US, you can get something like this for your baby:
This cloth book by Etsy Seller Magic Sewing Hands has been on my wishlist for so long but I never got to ordering it. If you check out all the details, every page is interactive. There are so many activities for the baby to do. Kids can sort shapes, put clothespins on laundry etc. You can add so many more features to an activity cloth book. You can add a thin mirror on one page, zippers on another page for the baby to pull them up and down. Buttons, ribbons, crinkle paper…the list is endless!