The bustle of sending the kids back to school after the long, fun-filled summer vacations can be compared to no other. The relaxed vacations take us off guard and more than one time, we all forget an important detail or remember it at the last minute. To help stay on top of things, I have made a back to school checklist for myself that I consult. Sharing it with other mommies reading this 🙂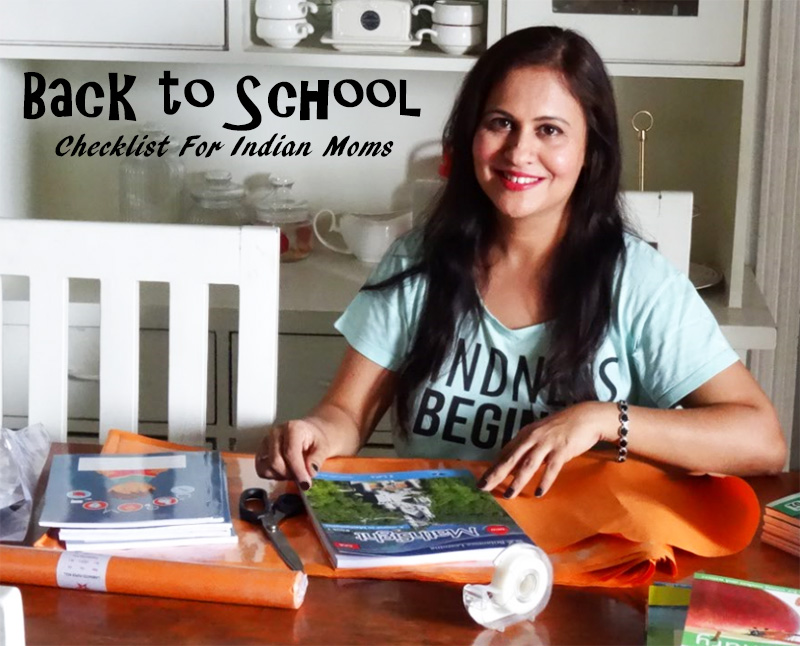 I carry this checklist on my phone (I use a checklist app like 'Google Keep' or 'Color Note' and tick off every item when done.
Shopping
First up, it is necessary to complete your shopping for the school year. Here is my back to school shopping checklist:
Uniforms
School Uniforms (including Sports/Scouts uniform etc.)
School Shoes
School Socks
School Belt/Tie/Scarf
Ribbons/Hair Bands/hair Clips for Girls
Handkerchiefs (and Safe Pins to pin them up, for younger kids)
Sweaters
Cycling Shorts
Inner Wear
Gear
School Bag
Lunch Box
Small boxes to carry extras for the road, side dishes, sweets etc.
Water Bottle
Lunch Bag (if you send the lunch separately from the school bag)
Lunch Napkins
Hand Sanitizer
Sports and Activities
Sports Equipment depending upon what your kids have signed up for  – Bows, Arrows, Bat, Racket, Chess Set, Swimming Costumes, Skates
Safety Gear
Bag to Carry the Equipment
Books and Stationery
Pencil Pouch
Extra Pouches – for Crafts and other Projects
School Text Books and Note Books, Drawing Books, Maps, Dictionary, Atlas
School Stationery – Brown paper for covering the books (if applicable), Pens, Pencils, Erasers, Sharpeners, Rulers, Markers, Art Supplies, Crayons, Paints, Brushes, Craft Supplies, Scissors, Glue, Geometry Box (I buy boxes of each to last the entire year).
Name Labels
Tape
Calculator (for older kids)
USB Drive (for older kids)
Watch (for older kids)
Exam Board
Files, Folders
Transport
Bicycle (If kids plan to cycle to school)
Helmet
Bike Lights
Raincoat
Wind Jacket
Umbrellas (if Kids Plan to Take the School Bus or You will drop them)
Other Preparations
Use a marker pen to label ALL or at least, as many school supplies, as you can. Lunch box, pencil cases, water bottles…. If possible, use fabric markers or a needle and thread to label uniforms, socks etc. also. They tend to get mixed up with other kids' stuff during dance or sports practice sessions and other activities.
Prepare a list of lunch box recipes and snacks for at least 1-2 weeks so you are sorted out on that front
Try on all uniforms and new clothes beforehand and see if they need any alterations
Cover all books, notebooks and label them if your school requires it.
Print out a list of important names, phone numbers and addresses and keep it in the kid's bags for emergencies.
Pre-wash new lunch napkins to make sure they are absorbent on the first day of school when actually put to use.
Prepare a new schedule for the children to follow before and after school which includes time for homework and studies in the evenings.