2018 began on a wonderful note for me as a parent! The Moms Co, who had been pampering moms-to-be for long, launched their much-awaited baby care products. The promise of natural, made-safe, toxin free products for baby skin and hair care was a blessing for all moms. 
I unboxed the beautiful baby care products hamper from The Moms Co. and was thrilled with the range of products. Now, after using them for four months, I am sharing my thoughts with you.
Mom Made
A Mom wants the best for her child, and The Moms Co was created out of a Mom's quest for finding safe products for her babies. Engineer-turned-banker, Malika Sadani realized the lack of them in India when she returned to India from London, with her babies. It resulted in the formation of this startup which was based on the principle of 'Love Without Compromise'.
I am so glad that her own experiences led Malika to come up with a brand that now gives Indian parents the choice of safe and natural products.
The products are completely natural and keep out:
Sulphates (SLS, SLES)
Parabens
Mineral Oil
Synthetic Fragrances
DEA/TEA
Other potentially harmful chemicals.
The Moms Co Review – My Thoughts on The Moms Co Baby Care Range
The last few months have seen The Moms Co Baby products tested out in every possible scenario and weather conditions in my home. Here is how the products fared:
1. Natural Baby Lotion
I am putting this on top of the list because this is simply the best baby lotion. It has given me an alternative to my favorite lotions that I needed to import. The lotion actually moisturizes and the skin stays soft and supple for hours! You can read a detailed The Moms Co Baby Lotion Review but the long and short of it remains that with both shea butter and cocoa butter combined with nourishing oils, it is a winning formula.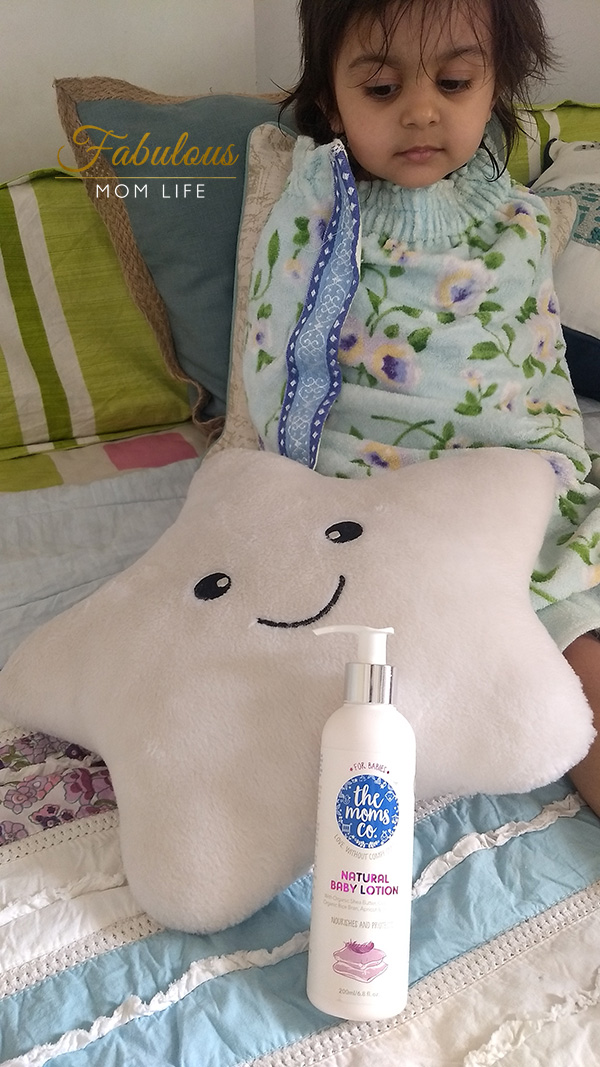 I use it after a bath, after pool time and after play time clean up. I have continued to use baby lotion in summer and I know that I have found my winter baby lotion.
2. The Moms Co Baby Sunscreen
My other favorite is their baby sunscreen. I have been singing praises of it from the day I first used it.
The Moms Co Sunscreen for Babies is mineral-based, as opposed to water based which essentially means that it forms a protective layer on the baby's skin and stays put in water too! It is SPF 50 which is a major requirement for a baby sunscreen to work effectively and it safe for babies from ages 0 and up!
The sunscreen has become a constant companion for me. In a hot country like ours, it is a necessity for safe outdoor play in the sun. In fact, I help myself to it all the time too!
3. Baby Bath Products – Shampoo and Body Wash
My kids' beloved baby care products have been the Natural Baby Shampoo and Body Wash! Their bath time routines have included these two – and they love the bubbles!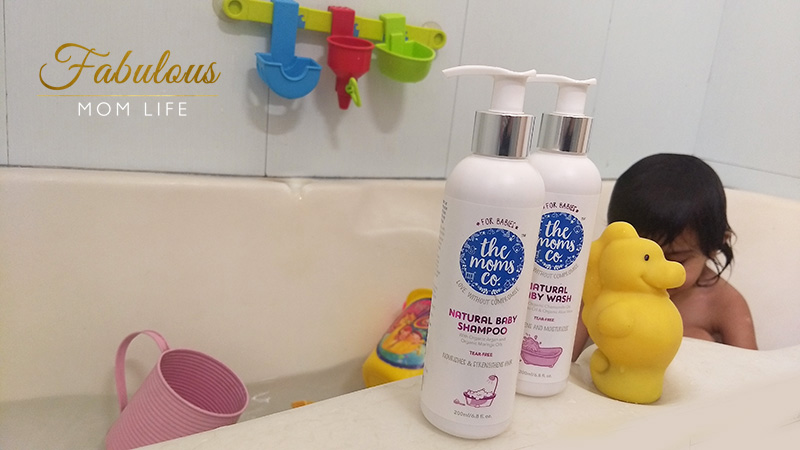 Free from synthetic chemicals and with the sweetest natural scents, both the baby shampoo and baby wash make bath time a pleasure for both Mommy and Baby. No SLS/SLES, no parabens, completely natural! We LOVE these!
4. Talc Free Baby Powder
Many parenting websites will tell you that Babies don't need powder. Well, all I have to say is that they have probably not lived in India! From hot to humid, our weather requires a good amount of powder for us to stay dry and fresh. It is the same for our babies.
But it is true that powder is not entirely safe for babies as it can enter the air and make it's way into their mouths. The Moms Co made a major difference when they launched a baby powder without one of the main culprits i.e. Talc and made it entirely natural.
Their talc free powder has been our constant companion since the day we started using it. After bath, before play time, from face to feet (before they are packed off in socks and shoes), I like to use a toxin-free alternative day in and day out. That said, I always take care that powder does not enter the body. Instead of dusting it mindlessly, I take care when applying it, to ensure that it does not enter the nostrils, mouth or vaginal area.
5. Natural Baby Hair Oil
I am not likely to go back to any baby hair oil I have previously used. I think the Natural Baby Oil is a complete package and the blend gives me so much more than a single oil.
I have previously used Coconut oil and made the massage-oils do double duty as a hair oil too. I really never found anything created with mild, yet enriching ingredients especially for babies. Most oil blends seemed to cater to the massage. None of the baby hair oils seem to have any enticing ingredients. My babies have fine hair like mine and I am happy to find a nourishing oil created specially for baby hair. Read all about the 10 ingredients and details in my The Moms Co Baby Hair Oil Review. And of course, it is completely free of mineral oil!
Gentle and Pure
I browse through the internet for safe products and strive to find brands who bring them to India. While I am happy to find a few of them in recent times, it is a company like The Moms Co, whose values I find to be aligning to those of my own. They are certainly one of my favorite natural and organic brand for baby care products.
Their baby products, just like their Mom care products, are gentle and pure and I cannot recommend them enough. Yes, they are safe and they are free of toxins. But more importantly, they work for my kids! They give me the promised care and nourishment and that is why I choose to stick with them.
Their bundles are packaged beautifully and make great gifts for moms-to-be as well as babies! The Signature Suitcase, especially, is simply fabulous!!
As is their Pregnancy Gift Set. Read my review of their beautiful, natural skincare products for moms-to-be.
Anytime is a good time to lessen the use of chemicals in our lives – but Pregnancy is the perfect time…and probably the best excuse you will ever need. It is during pregnancy that many women start looking for sulphate-free hair care and other skin care products that go in their skin. With The Moms Co, you can begin the journey from pregnancy and continue it as you have your baby 🙂