Doesn't matter how hot a country we live in. By the time the winter ends, the children are anxiously waiting for longer and brighter days filled with endless outdoor play time. My kids are making the most of this summer and Lil Sis, the most of them. It is practically impossible to keep her indoors for long. I don't really mind as long as she stays safe and protected. Her baby sunscreen from The Moms Co is faithfully keeping her company 🙂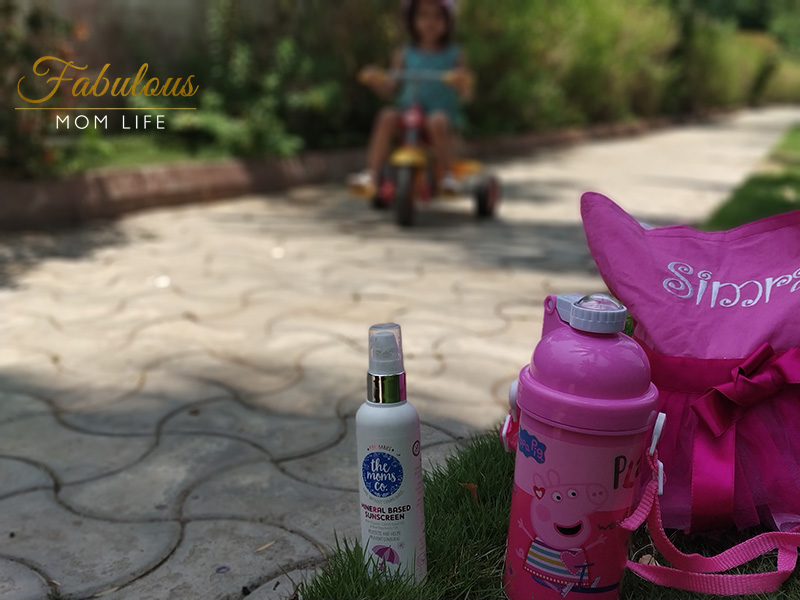 Playing in the Sun – The Good, The Bad and The Ugly
Sunlight has a number of benefits. It ensures not only a cheerful mood but can also help reduce skin diseases such as eczema and psoriasis. Exposure to sun also ensures the production of vitamin D in our body, which is necessary for healthy bones and muscles and good resistance.
But there are also a great many disadvantages. Sunburn in babies and toddlers is very bad for their skin, and there is also a chance of overheating or dehydration. And coming to the ugly part, there is a clear link between sunburn during childhood and the development of skin cancer later in life.
Therefore, always take the right precautions. Do refer to my post on baby skin care during summers. Even if your baby is not actively playing in the sun and sleeping in the pram or stroller, sun rays can harm the exposed areas. I always carry the baby sunscreen in my baby bag.
Sunscreen for Babies
Sun protection is essential, especially in babies and toddlers. To effectively protect vulnerable skin against the dangers of UVA and UVB rays, it is very important to use the right baby sunscreen.
Unlike adult skin, babies should not be discriminated between light or dark skin when it comes to using a sunscreen. The only effective sunscreen for babies irrespective of their skin tone is one with a minimum protection factor of 50 (SPF 50). Read my review of The Moms Co Baby Sunscreen to know how it perfectly fits the bill.
I apply sunscreen to my baby thick and regularly to completely protect the face and other exposed parts of the body. Do learn the proper baby sunscreen application tips to get the most sun protection from it.
Using Adult Sunscreen on Babies?
While adult products might work for older kids, they are a no-no for babies and toddlers. A good baby sunscreen Baby sunscreen will have no extras such as bronzing or extra shine.
And beware of sprays in children! They should not breathe the spray, and sprays contain alcohol and are therefore potentially flammable.
What I Am Using: The Moms Co Mineral Based Sunscreen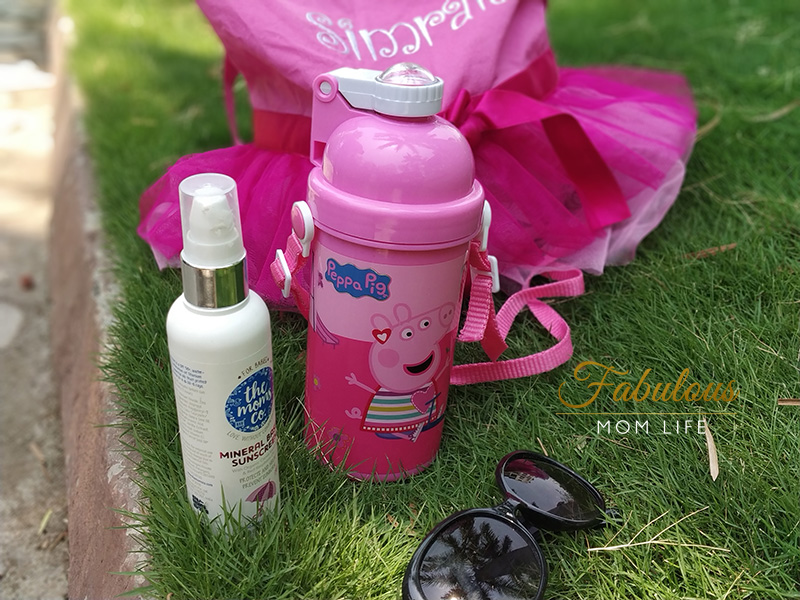 I trust The Moms Co Mineral Based Sunscreen for Babies for protecting all my kids from harmful rays of the sun. The natural sunscreen product is designed especially for babies and is ideal to meet the specific needs of the little ones. They can be used right from birth.The hypoallergenic formula minimizes the risk of allergic reactions.
The made-safe baby sunscreen has a sun protection factor of 50 and is waterproof, which is essential because swimming is a daily favorite activity of all 3 of my kids during this season. In addition to protecting the baby's skin, the sunscreen also works on hydrating as it is enriched with shea butter . The texture is not sticky and leaves the skin supple and soft.
It has a pleasing smell and is completely free of toxins. Mineral based sunscreens create a layer on the skin which keeps the exposed parts safe, whether in the park or in the pool. And not just playing, I even use baby sunscreen on the face and arms even when traveling in the car.