Mommy Cuddle is a newborn baby carrier specially crafted to give tummy and back support to moms who have recently given birth, as well as provide soothing comfort and skin-to-skin contact to the baby. I checked out the product myself first. And then got another mommy – a new mom – to put Mommy Cuddle to the test. And here is my conclusive review of this impressive invention for busy, modern moms who are looking for a sling for newborns.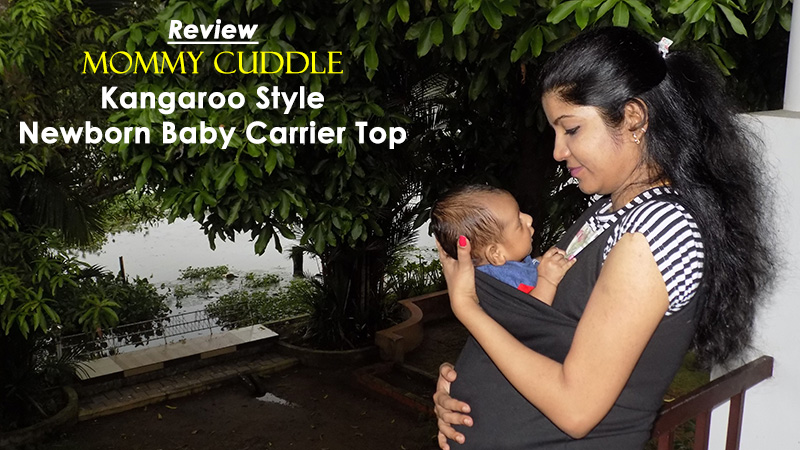 New Moms Need Help with Carrying Their Baby. Period.
A few days ago, I posted on Instagram about the first few weeks and even months after giving birth. All moms could relate to the stress and challenges of those days. Those with extended families to help them were grateful for help but felt helpless after they were left alone. Those living away from families had it even more rough.
It is not difficult to figure out that a new mom needs help carrying her baby. The physical pain and exhaustion of childbirth (and the pregnancy prior to that) are enough to wear her out. Add to it the healing of her stitches which increases manifold in C-section deliveries. And along with the sweetness that your baby brings to your life, also come the first few months of sleepless nights, frequent breastfeeding and endless diaper changes. Now double this to feel what the mom of a preemie baby goes through.
A New Baby Needs Babywearing Even More
At this time, carrying and breastfeeding her baby is challenging for all moms. While a huge market exists for babywearing toddlers and even babies over the age of 6 months, there are very few options for newborns and preemies. And this, as you will agree, is extremely important!
Think of it this way. Slings or carriers for older babies are more for the parents' comfort. They exist to make it easy to carry them and avoid body ache. But babywearing newborns is essential for babies themselves! They need the warmth and skin-to-skin contact. And they need to be held close for comfort. Mommy Cuddle fulfills all these needs. First, let us see how Kangaroo style baby carriers compare with traditional baby carriers.
Kangaroo Tops vs Traditional Slings/Wraps/Carriers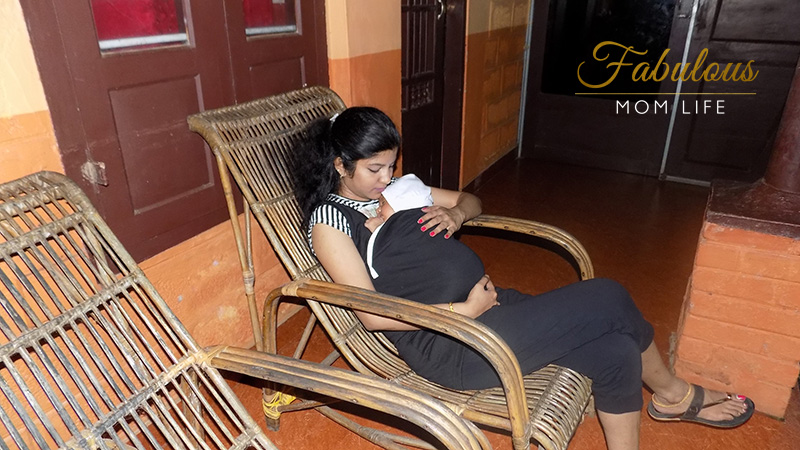 Kangaroo tops are a new invention and we badly needed them in India. Kudos to Mommy Cuddle for bringing to India the first ever Kangaroo style baby carrier shirt. I will list a few points below to explain to you why I am so excited about Kangaroo tops.
1. Structured Carriers vs Kangaroo Top – ALL structured carriers, including even the lightly padded ones, are safe for use with babies over 6 months of age. So they will not work for a newborn and no way, for preemies. Their open sides are simply not safe for babies. Kangaroo tops are perfect for newborns as well as preemie babies.
2. Wraps vs Kangaroo Top – Wraps DO cater to newborns and even preemies but you need to learn expertly how to wrap or you may end up injuring the baby. It is also very time consuming to use a wrap.
3. Ring Slings vs Kangaroo Top – Ring Slings were probably the only alternative in India for carrying newborns before Mommy Cuddle Newborn Baby Carrier. But they are not so supportive. The one-shoulder design causes a lot of discomfort especially during longer duration carrying. They are simply not for new moms with back or shoulder pain issues. Another drawback is that the newborn is not strapped close enough. As you bend, the baby moves further away. Kangaroo tops hold the baby similar to how he or she feels in your womb.
Mommy Cuddle Review
Mommy Cuddle is a Kangaroo Style baby carrier top designed to carry your baby in a 'pouch' in the front. It is a far cry from complicated wraps and carriers, and is specially designed keeping in mind the needs and challenges that a new mom faces.
It is not 'just a baby carrier'. It is a Maternity Top + Nursing Bra + Swaddle + Fuss-Free Carrier all rolled into one. Here are some of the most impressive things that will make you wonder how we ever did without it so far! Check out this video and then read on for an in-depth discussion on Mommy Cuddle features. Fabulous Mom and Vlogger Sherin of Ammu's World tried Mommy Cuddle and shared her experience with FML readers.
I hope you did not miss that Mommy Cuddle arrives in a canvas bag! Yes, I have mentioned several times on this blog how I am partial to fabric bag packaging and it was great to see a responsible packaging initiative by Mommy Cuddle 🙂
1. Hassle Free
Scenario 1 – Baby Crying. Mommy looking for her sling or wrap. Baby continues to cry. Mommy finds her wrap, fusses with it. Finally puts it on while baby continues to cry. Mommy places the baby in the sling and continues to adjust her sling or wrap before finally calming down the baby.
Scenario 2 – Baby Crying. Mommy just slips the baby into the pouch of the top she is already wearing. Baby is soothed immediately and Mom goes back to whatever it is she was doing.
Get the idea? Mommy Cuddle is a wearable carrier. Get a few and wear them. You will never need to fuss with the adjustable ties and straps to keep the baby securely in place.
2. Maternity/Breastfeeding/Nursing Top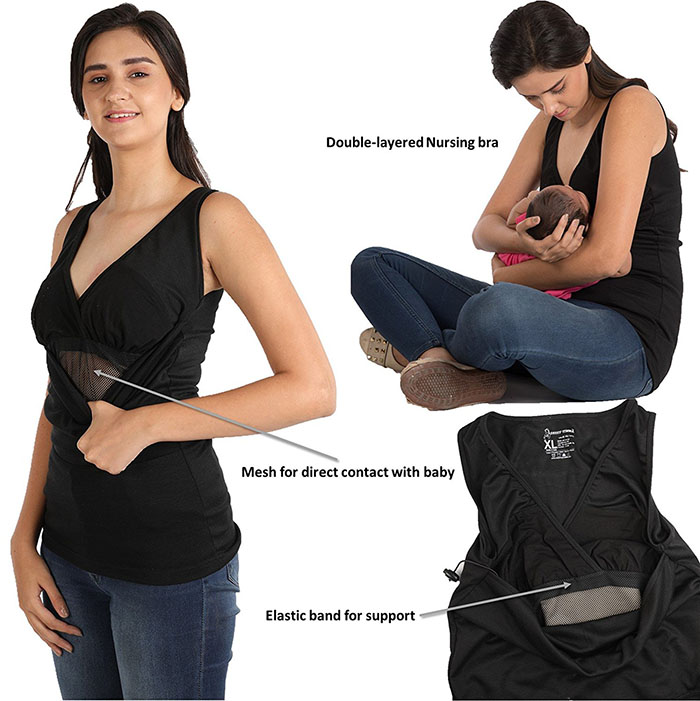 The concept of Mommy Cuddle is a Fashionable Top with an attached pouch for the baby. This pouch not only carries the baby comfortably, but also turns the top into a Nursing Bra/Top. There is also extra support for the breasts with a double layer built-in bra. You can breastfeed your baby comfortably without exposing your belly or back. Check out this video to see how Mommy Cuddle turns into a Nursing bra and top.
3. Swaddle
I probably should have listed this first because this is the reason why Mommy Cuddle is the best newborn carrier. No other carrier can replicate the feeling of a mother's womb like Mommy Cuddle does. A newborn baby craves for the warmth and comfort of the womb. The 'pouch' makes the baby sit in the frog position, pressed close to the mother's bosom. This gives the baby the same comfort as swaddling. I have talked previously of the benefits of swaddling and why it is a must for newborns.
When not using a sling or a carrier, I always recommend swaddling the baby before carrying. With Mommy Cuddle, both swaddling and carrying are taken care of.
These were my Top 3 reasons for recommending this lovely wearable newborn sling pouch. Some other things that I loved about Mommy Cuddle Newborn Baby Carrier Top are:
4. Back Support
The farther away from your body that you carry your baby from you, the more your back will hurt. Mommy Cuddle keeps your baby wrapped up extremely close to you which is the best way to support your back. The baby is safe in a pouch and there is no need to constantly keep adjusting when baby slips a little, as is the case when carrying manually with both hands.
5. Airy
It can get hot in India and carrying your baby around all day can cause sweat. The mesh around the tummy area in Mommy Cuddle keeps your body ventilated.
6. Skin to Skin Contact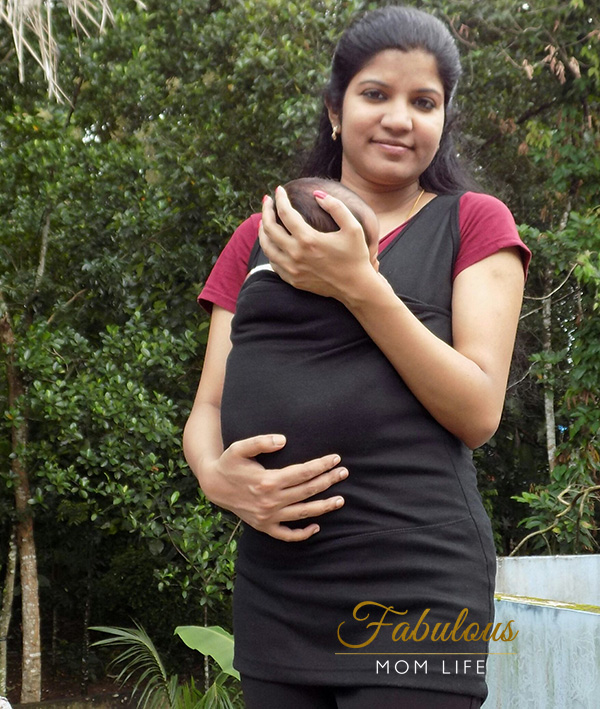 The mesh mentioned above is a great idea not just because it keeps things ventilated. It is a genius idea because it provides the much needed skin contact between mom and baby.
7. Beyond Newborn Babywearing
Once your baby outgrows her newborn pouch and begins to get wiggly, you can still wear it as an extremely high quality nursing top. In fact, you can wear it as a maternity shirt long after your baby has outgrown the need for babywearing. The top doubles as a nursing bra and cover.
8. Shoulders Free to Carry Diaper Bag
A sling or carrier takes away your ability to carry the baby's diaper bag. Since Mommy Cuddle is a wearable top, your hands as well as shoulders are free to carry your bag.
9. Quality and Strength
The quality of the top itself – and the pouch of course, is built to last. The fabric is super thick and high quality.The pouch is very sturdy and the versatile top is going to last you a few seasons of different layering fashions while you continue to breastfeed.
10. Cost
One might argue that you will only need the sling for the first few months after childbirth. But given the fact that my Maternity Tops alone cost around INR 1200 and add to it Nursing bras, Swaddles and a Baby Carrier – you will realize you are getting a great deal as you don't need to buy so many products. And like I said earlier, the sling is not only the next best thing after a mother's womb, it is also going to continue long after, as your maternity top that you can style any which way you like.
You also participate in a very good deed when you purchase Mommy Cuddle. 2% of whatever you pay goes for Thalassemia affected kids who cannot afford treatment. Even as a company, I found Mommy Cuddle entirely committed to empowerment of moms. Not only did they quickly realize the need for a convenient baby carrier for newborns, but they also try to empower new mothers who want to get back to work after pregnancy when it comes to employing them – be it their photographer or their social media managers. We love that, don't we!
Finally…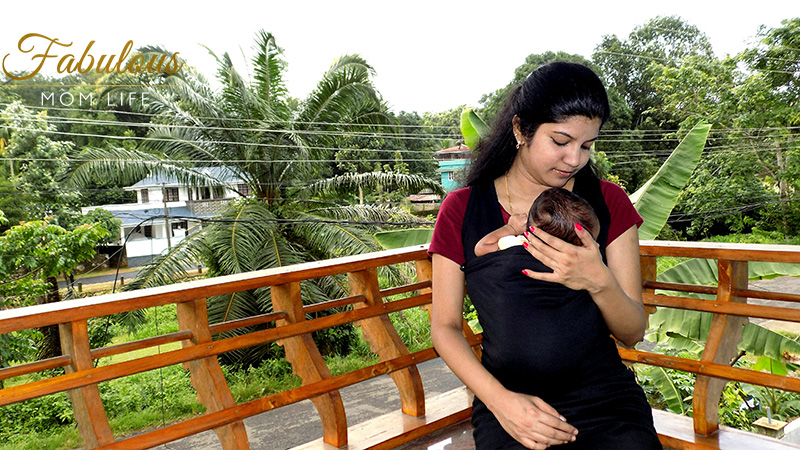 The market is flooded with baby carriers and it is a tough decision finding the right one for you. But save that dilemma for when the baby is older. When shopping for your newborn, just close your eyes and go for Mommy Cuddle. It will:
Keep your baby close and happy
Support your back by even weight distribution
Support your tummy post C-section
Allow you to conveniently nurse your baby any time
Be a Maternity Wardrobe essential, whether staying in or going out
Check your size (they make them in every size to ensure the best fit) and add this functional, double-duty top to your maternity wardrobe. Trust me, you will want to wear it every single day so get yourself a couple. When going out, style them with different shrugs, jackets and a variety of bottoms to keep varying the look.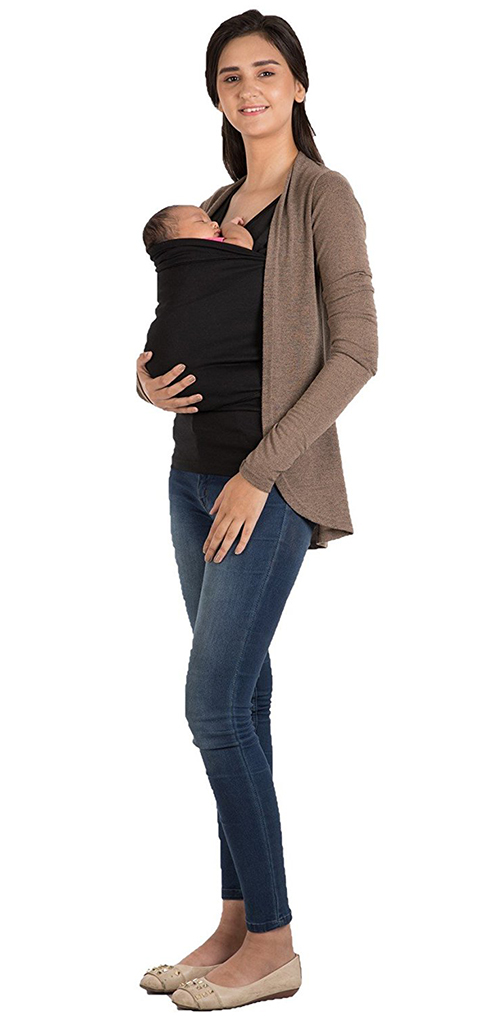 Shop Online at: