Your baby's skin is very sensitive. To massage, you should always prefer natural oils to mineral oils, which may clog the pores of his or her skin. I am happy to share two toxin-free, calming products from one of my favorite brands – The Moms Co. Let's take an in-depth look into their nourishing oils for baby – Natural Baby Massage Oil and Natural Baby Hair Oil.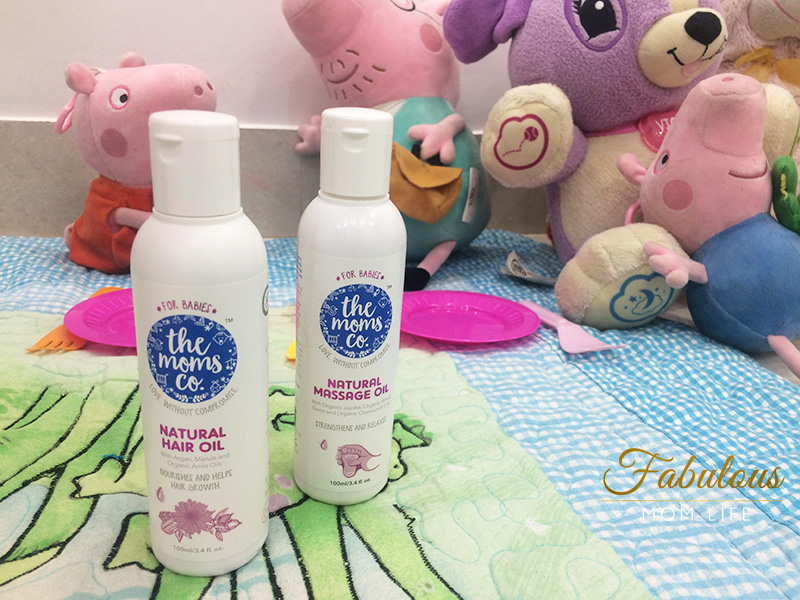 Choosing a Baby Massage Oil
Oil is the food for the skin! It is with oil, that your hands will slide well and that your movements will be fluid during the very important baby massage. Choose it carefully! There are roughly two broad categories of oil. Vegetable oils and mineral oil. While mineral oil, when used in regulated quantities and in a combination with other ingredients, does not necessarily harm your baby, it is obtained by the distillation of crude oil and shale. You can definitely do a lot better when choosing a massage oil for your baby. Mineral oil has absolutely no properties and always has a risk of proving occlusive for the skin. If you have a better choice – take it! And I am writing this post today to share with you a choice that is definitely better – Natural Baby Massage Oil by The Moms Co.
The Moms Co Natural Baby Massage Oil Review
'Baby oils' are most often mineral oils, with which the pores of your baby's skin are not able to well.  The first thing that instantly appealed to me about The Moms Co Natural Baby Massage Oil is that it has a blend of oils that are considered best for baby massage. I had been reading up on mineral oil, it's drawbacks and about essential oils which are best for baby. I was very happy to find the top recommended oils mentioned on the labels of The Moms Co oils 🙂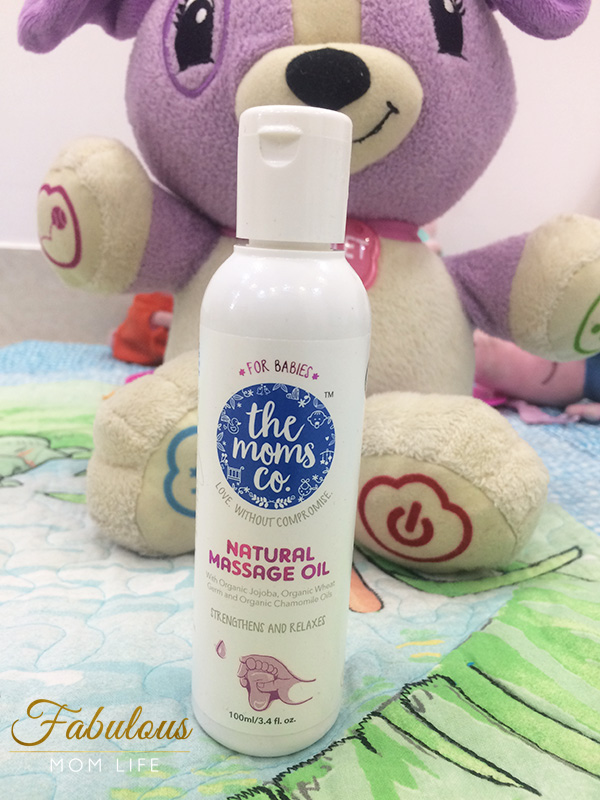 The main oils that make up the The Moms Co Natural Baby Massage Oil are also the best ones:
Sesame Oil : It is pleasant in winter because its main function is to warm up. It is recommended for babies who cool quickly. The effect of warming up baby's body through massage is also important in all seasons as it relaxes the limbs from all that kicking about. It is also useful for building Bone and Muscle Strength, with its high content of Calcium and Omega fatty acids.
Jojoba oil : It is the one whose composition is closest to the natural sebum of the skin so it gets absorbed quickly without leaving a greasy sensation.. It is, thus, known to replenish and restore skin's natural pH.
Almond oil : This soothing oil softens the baby's skin and gets absorbed perfectly into the epidermis without leaving a greasy film on the surface of the skin. The sweet smell is an added incentive of using it!
Chamomile Oil: The components of this essential oil act to relax the body's entire muscles, thus promoting the state of rest and physical well-being. It also acts on the nervous system to maintain a stable and calm mental state.
Verdict: I am a fan of blended oils. I have never used a single oil for massaging my babies. Reading the labels made it clear that The Moms Co has come up with a very effective blend. What makes the blend even better is that the individual oils used, are organic and USDA-Certified. It is of utmost importance that the ingredients that go inside are the purest and the best. The massage oil also smells nice and calming, is not too thick or sticky and the opening on the bottle is convenient to pour and use. I recommend this oil for it's TOP QUALITY ingredients and a perfect blend of strengthening and relaxing oils for baby massage.
The Moms Co Natural Baby Hair Oil Review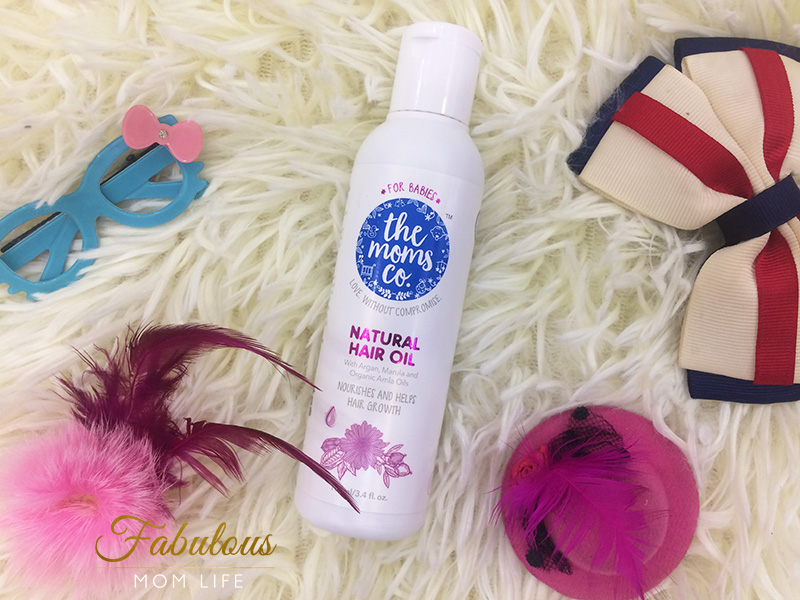 The Natural hair oil contains ingredients that we all know and trust for hair care. I will let you judge what a beneficial combination these products make:
Avocado Oil
Almond Extract
Argan Oil
Bhringraj Oil
Coconut Extract
Coconut Oil
Marula Oil
Organic Almond Oil
Organic Amla Oil
Organic Olive Oil
Organic Wheat Germ Oil
Tea Tree Oil
Be it Amla or Bhringraj or Argan oil, reading the list itself will give you an idea of the goodness of natural ingredients in it. I was looking for a 'filler' here and there but have nothing to report! There are no scary ingredients to be found in the hair oil. The main ingredient Argan Oil is known as the liquid gold of Morocco. The high antioxidant content of Argan oil, especially vitamin E, makes it the best known oil to nourish and prevent dry hair.
Growing up in India, we do not need to be made aware of the usefulness of Amla, Bhringraj and Coconut oil for the hair. Other than these, I was thrilled to find Marula Oil as one of the ingredients. Marula Oil is to Africa what Argan Oil is to Morocco and Amla Oil is to India. It is known to stimulate hair growth and improve the health of your hair follicles.
Verdict: The ingredients make The Moms Co Natural Baby Hair Oil the perfect blend of the choicest hair oils. Even if you try using a coconut oil base at home and adding a few of them, you are not likely to achieve the best blend that is not only Hypoallergenic but also Clinically Tested for Safety. The Moms Co has done the job for you. The resultant blend of oils is not too sticky or oily. The oil gets absorbed quickly into the hair and there is no artificial fragrance added to it. While it is well known that hair growth in babies varies from one individual to another, often following the family pattern, a hair massage with a nourishing blend of oils like The Moms Co Natural Baby Hair Oil, helps promote hair growth.
The Moms Co Philosophy Continues with the Oils
Both the oils – Natural Baby Massage Oil and Natural Baby Hair Oil – are made with the same love and care that I have come to expect from The Moms Co. I know for a fact the time and thought they put into developing each product and then making it sure that it complies with the strictest tests to ensure it is completely safe for the babies.
While I have discussed above, the ingredients and the perfect blend arising from it, it is based upon the fact the basics that re-assure me, are taken care of by default. Both oils, like all other products from the label are:
Safe For: Baby from 0 months
Made with Natural and USDA-Certified Organic Actives.
Clinically tested to be Tear-Free, Hypoallergenic, Mild and Gentle
Certified Toxin Free and Made Safe by Safe Cosmetics Australia
Australia Allergy Certified
Not Tested on Animals
Have a shorter Shelf Life because there aren't any harmful preservatives
Free of Toxins or any harmful substance that you would never want near your baby
Free of Parabens
Free of Sulphates (SLS, SLES)
Free of Synthetic Fragrances
The Moms Co, with their continued quality performance in their products, has earned my trust as a mother. My kids use their products and we have never had anything but good experiences with them. I am happy to recommend both the Natural Baby Massage Oil and the Natural Baby Hair Oil to all you moms out there 🙂