The effects of summer can be really frightening, especially if you have a baby at home, because the heat can have drastic effects on the body and skin of your baby if you do not pay special attention. Here is a list of tips for essential baby skin care during summers.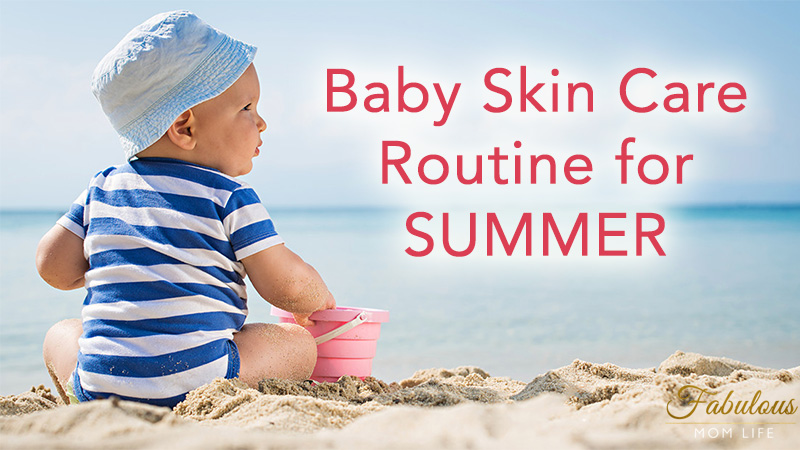 1. Hydrate
In summer, it is important to drink regularly. To keep baby's body cool, you must keep him hydrated with breast milk if he is less than six months old, and with water and fruit juices when he is older than that age. Your baby still does not have the reflex to ask for water when thirsty , so you should think about giving it to him frequently. There is no rule as to the quantity, but it is important that it be throughout the day. You can also give him his bottle with cold milk, which is just as good.
2. 
Bathe twice a day
This is the first thing I start doing as the days get warmer. For good baby skin care during summers, you should bathe your baby twice a day in the summer or they can get sweaty and uncomfortable by the evening. An evening bath will also assure a good night's sleep.
A bath twice a day also means that his skin will lose twice as much moisture. To combat this, give him a massage (more about it below) with a light and non-sticky massage oil before bath and moisturize after bath.
3. Moisturize
I cannot stress enough upon the importance of moisturizing during summers. Many Indian moms believe that lotion is only for winters but that is not true. I have written a detailed post about why you must apply baby lotion in summer also. The dry air, heat and air conditioning can cause itchy skin which needs to be soothed.
4. Cool Down
It is important that your baby stays as cool as possible. To ensure this, you can do a lot of things at home. Keep your home well ventilated. Let him wear loose, breezy cotton clothes and make sure his room has enough air circulation. If carrying baby in a sling, make sure to choose one with breathable fabrics and those that let him breathe easy. If baby feels hot, just moisten a washcloth and give a cool sponge bath.
When going out in car, don't start the AC immediately. Instead, pull the windows down and allow to ventilate for a while before taking the baby in. Cars can turn into hot ovens and can pose a greater risk of heat strokes than airy outdoors!
5. Sun Protection
First of all, avoid taking your baby in the hot sun. If you really must, use clothes to cover his body, a hat, sunglasses, scarf etc and 30 minutes before leaving, apply sunscreen. Choose the right sunscreen for your baby (preferably waterproof) and apply it correctly  The soft skin needs protection against the harmful sun rays.
6. Shampoo Well
Summer is a dry time. Shampoo your baby's well with a mild formula that cleans the sweat and dust thoroughly. To replenish the lost oils, use a light baby hair oil and ensure that the shampoo is also nourishing.
7. Wipes and Diaper Rash
Keep a supply of baby wipes in handy during summers. Wearing diapers in the summer can be irritating for the babies because of the heat and the sweat. Always wipe the sweat clean and let the baby bottom air out before putting on another diaper. I have resorted to using polyester-free wipes and recommend that you do the same. Cotton or bamboo fabric is good for the baby's skin and does not add to landfills.
At diaper changes, apply a good diaper rash cream that helps lock in the moisture and creates a barrier for preventing further irritation. Both the wipes and the diaper rash cream are an essential part of baby skin care during summers.
8. Use Cloth Diapers
Much more airy and made of breathable, skin-friendly fabrics, cloth diapers are a must for babies especially during summertime. Disposable diapers can cause a lot of sweat and heat-trapping inside the diaper.
9. Massage
Just like applying lotion, massaging is also a perennial routine for my babies. I massage them in every season. Yes, I do choose lighter oils for massage during summers. Also, ensure that the massage is followed by a bath and that all the oil is completely rinsed away.
10. Baby Powder
Baby powder is a must in summers and an essential for baby skin care during summers. I generously apply baby powder all over the body including the soles of the feet which go in shoes. One thing to keep in mind is to apply powder only after applying lotion. Applying powder directly on freshly bathed skin causes it to clump. It will not spread evenly and cause pores to clog.