When I saw the Baby Buddy 360 Toothbrush, my first thought was – why did no one ever think of doing this before? Seriously, how many times must all moms have wished that there were bristles on top of the toothbrush too! And yet, the genius idea of a 360 degree toothbrush never entered anyone's heads. Well, here it is and there isn't much you could find to complain in such an intelligent concept. My Baby Buddy 360 Toothbrush Review will tell you more about the features I loved and my experience using it.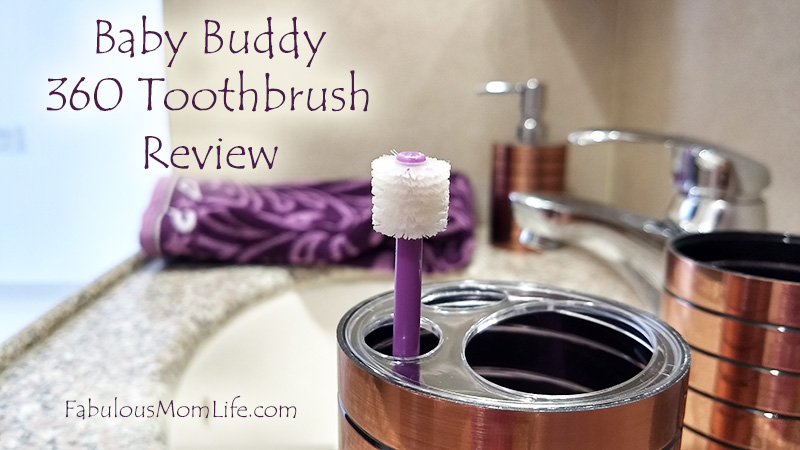 The 360 Degree Experience
When Baby Buddy said they wanted to send over a tooth brush for review, I couldn't really imagine what would be so unique about it. I mean, it was coming all the way from USA after all. But I knew the moment I laid my eyes on it that it was a novel concept in kids dental hygiene.
It really makes sense, does it not? Especially for little babies who have just started teething and do not get lured to open their mouths by the new colorful toothpaste. But why just for babies? As a mother of a 6 and a 11 year old, I am constantly worrying whether the kids did the job of brushing their teeth well enough. My 6 year old son has taken to brushing his teeth independently and does not let me touch his toothbrush anymore! In all these instances, it is a relief knowing that the kids are equipped with an intelligent toothbrush that has bristles all over and which is helping them with their hygiene. Read more about what I loved about it.
Baby Buddy 360 Toothbrush Review
The baby buddy 360 toothbrush, as the name suggests, has bristles all around the brush. Here are some features that make it stand out from other toothbrushes:
10 times more bristles – over 10000 microfiber bristles!
Soft bristles, like very soft…and yet super effective
Bristles all around, so there is not need for turning the toothbrush inside the mouth
The cylindrical shape of the toothbrush head makes teeth brushing very convenient and effective
Easy for younger kids as there is no need to twist the wrist to brush upper teeth or sideways
Reaches every corner of the mouth
Cleans baby tongue extremely well
Better than finger brush – even finger brushes should be designed to be 360 degree I think.
Removes plaque like NO OTHER toothbrush does
Can be used with only water too. In fact, it works great with water in removing plaque, sugar (and cookie!) buildup and after meal quick rinse.
Very effective in getting out the food particles that get stuck between teeth
Can be used for ages 2 to 12 (my Step 2, Stage 6 toothbrush – other Steps available for newborns too)
Kids learning to brush on their own will love this as there is no need to fumble with the handle and maintain an angle. It is a great beginner brush!
Brushing time struggles are done away with…period.
My Experience
From toddlers to pre-teens, all my kids can use the Baby Buddy 360 toothbrush for effectively cleaning their teeth. With their unique patented design, this brush is designed so that the brushing action is always at 45 degree angle. This helps clean the teeth and remove plaque and buildup very easily. We have been using it for the past week and I can see an immediate change in the oral hygiene of my kids. There is zero odour from the mouth because the brush reaches every nook and cranny. My eldest daughter has had tooth decay problems and I am extra cautious with my younger two. I am really amazed at the results of this lovely little buddy for my babies. In fact, it made me wonder how I have managed to clean my kids teeth without it so far!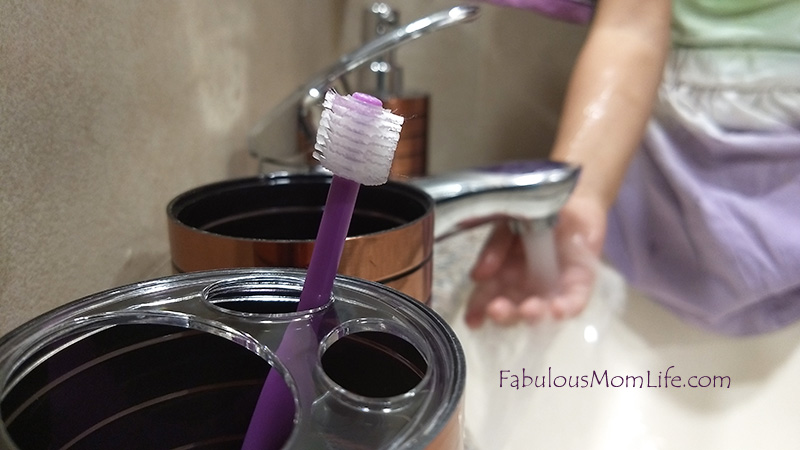 Where to Shop for Baby Buddy 360 Toothbrush
The Baby Buddy toothbrush is available online at Amazon.com as well as the Baby Buddy website. Both websites ship internationally. My Baby Buddy traveled to me all the way from the USA and reached India in about 10 days.
It is also available on Amazon.in, but for some reason, is priced at a crazy figure. I am crazy and I buy dolls worth INR 12000 sometimes. But that was a keepsake! I am not paying INR 2700 for a toothbrush, no matter how much I love it! So the best way to shop for it is directly from the US websites. I love shopping international and do it all the time. Try it! You will love the experience. It opens up so many more shopping possibilities and the sight of the USPS packages or the Amazon International courier is such a joy! And while you are there, check out the Sonic 360 brush too:
And the Sugar Bugs book!
'Every baby needs a buddy' is the tagline of Baby Buddy and that's what I am ending my Baby Buddy 360 toothbrush review with. That's what this toothbrush really is – a valuable buddy for our little kids learning to be independent. I am genuinely happy with the Baby Buddy 360 Toothbrush and the visible results in my kids' teeth and their reaction to brushing time.