Your children are your world – you want to protect them, you want the best for them, you want them to excel and most importantly, you don't want them to make the same mistakes you made while growing up. In the whole process, you fail to realize when your perfectly good intentions start getting fueled by your anxiety.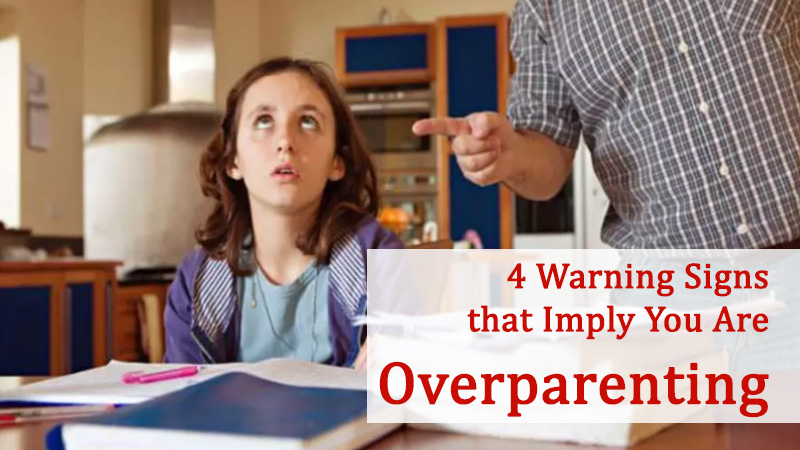 Overparenting always backfires because you end up giving rise to entitled children who lack confidence and are far from being independent. Remember – stop passing your anxieties to your child. Your child is different and the best thing you can do is let them choose their own path.
Take a step back and think – are you overparenting? Here are 4 warning signs that imply you might be –
Doing their homework
There is a reason why your child is given homework. It is for them to do and learn from. The moment you take over and start doing their homework, you hamper their growth.
Guide them when they are stuck, don't end up doing their assignments instead because it beats the entire purpose.So, the next time your child needs urgent essay help, ask them to attempt it first – you will be glad you did.
Taking their decisions for them
From what they should wear and eat to who they should hang out with – do you find yourself talking over your children and taking decisions for them? If yes, then you are definitely overparenting. Yes, it is perfectly okay to steer them in the correct direction if you see them going the wrong way. But it has to be in a non-invasive way.
Decision making is an important skill children should develop and you as parents should set the foundation for it. Stop undermining your children, give them some credit and let them make their own decisions. Yes, there will be times when they will fail but that is alright – it is the best way to learn and make better decisions going forward.
Fighting their battles
Whether your child got into a squabble with a fellow classmate or was not chosen as the lead in the school play – don't make your child's battle your own and take matters in your own hands.
Being the over-protective parent, you are, that is the first thing you tend to do but by fighting their battles, you let your child believe that you will always be there to solve their issues. This creates a sense of dependency which only grows with time. So, let them stand up for themselves – it builds confidence and makes them more self-sufficient.
Giving in to every demand
Your child wants the latest PlayStation, you get it for him. He wants to eat pizza, you order in. He is too lazy to do his assignment, you do that too. Basically, you find it extremely difficult to say no and end up giving in to every demand of his. What happens next? Before you know it, you have raised an entitled, spoilt child who is ungrateful and does not understand the value of what he has.
So, stop spoiling your child and giving in to every materialistic demand. It will be difficult initially – they will create a fuss, they will demand attention but with time, they will understand to be responsible and grateful.