Simple, basic, feel-good recipe for homemade Chocolate pudding made quickly in 10 minutes using milk, cocoa powder and cornstarch to thicken.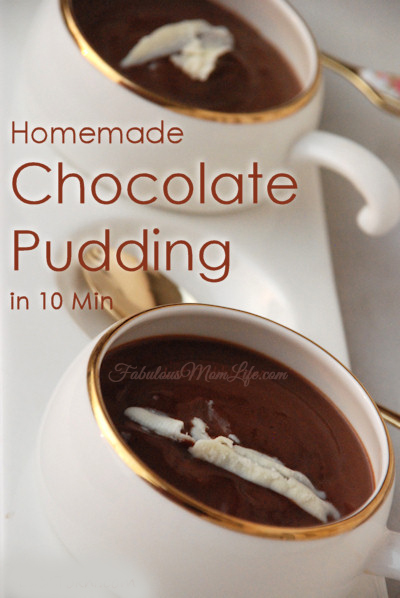 Serves 6 (Go easy on the servings unless you plan to make it the main course!)
Ingredients:
1/2 cup sugar
1/4 cup cornstarch
1/4 cup cocoa powder
1/4 tsp. salt
3 cups milk
1/4 cup unsalted butter
White Chocolate Shavings for Garnish (optional)
How to:
1. Mix the first 4 ingredients in a heavy bottomed saucepan and mix well.
2. Now add 1/2 cup milk to the dry mixture and mix thoroughly to get as smooth a mixture as possible. DO NOT HEAT YET.
3. Add the remaining milk 1 cup at a time, mixing well after each addition. Still, do not turn on the heat yet.
4. Now, place the saucepan over a medium flame and stir continuously for 6-8 minutes until the mixture coats the back of your spoon.
5. Turn off the flame, stir in the butter and allow the pudding mixture to cool and thicken. The pudding will form a darker film on top. Just mix it back into the pudding by giving it a good stir.
6. Serve warm or chilled garnished with white chocolate shavings.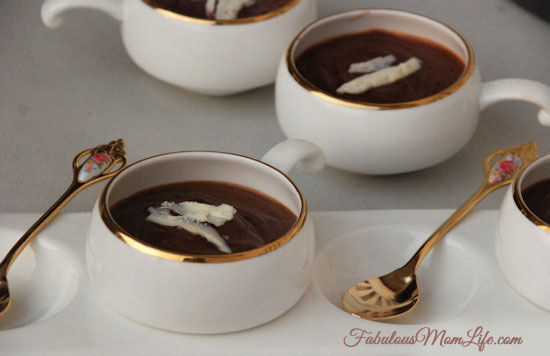 My Secret to Making Lump-Free Pudding/Sauces
The first 3 steps are crucial to the recipe as they result in a lump-free pudding. Often, thickening agents like cornstarch are mixed with a little cold milk and then added to boiling milk which causes lumps more often than not. I was 'initiated' to the process of making lump-free sauces at a cooking class I took where my teacher demonstrated a different process for making a 'white sauce' (bechamel). Instead of stirring in milk, she mixed the thickening agent in cold milk and gave it a good mix. After that, it was only a few minutes on the stove before the milk thickened into a beautiful lump-free sauce.
I have done the same here – mixed all the dry, powder ingredients with cold milk and mixed them well and then heated the milk mixture. It works for me every time and I am sure you will find it easier to make lump-free sauces with this method.