On my Facebook post on World Environment Day, many Fabulous Moms came out and shared their very useful and practical tips to conserve water. There are some surprisingly easy and some very creative ways to save water in and around your house. I share with you today some of the ways to get you started on conserving and re-using water.
My AC Saves Water!
First and foremost, I will begin by sharing a very useful video. Yes, we have been doing this for years but never thought of sharing it. In fact, our AC water collection pot is a favorite hangout for the birds 
. Finally, getting to share this important message with you all through this video.
As Fabulous Mom Sumithra says in response to this video: "This is very interesting.. we are not collecting this water. In fact there is this water seepage into walls and has spoiled my wardrobe. Shall fix it sooner and collect this water and make it purposeful."
Fabulous Mom Noopur adds, "We too have been using water can to collect AC waste water since our first AC, which we use next day to water my balcony plants".
Fabulous Mom Swati C. also saves AC water and uses it for plant watering and feeding birds.
Fabulous Mom Aaroo has also already been following this method of saving water. Here is what she has to say: "Few years back when I got to know that in humid weather, an air conditioner may produce five to twenty gallons of water per day, it sounded like an warning alarm to me… so I decided to reuse the waste water. At night I put a bucket under the outlet pipe, and in the morning my car cleaner uses that water to clean our cars. After that I place the bucket under the outlet pipe again & in the evening I use that to water my plant with the same.
I am trying to do my bit…"
Save AC and RO Water
Fabulous Mom Hema showed us how she saves AC and RO water and uses it in multipurpose ways at home.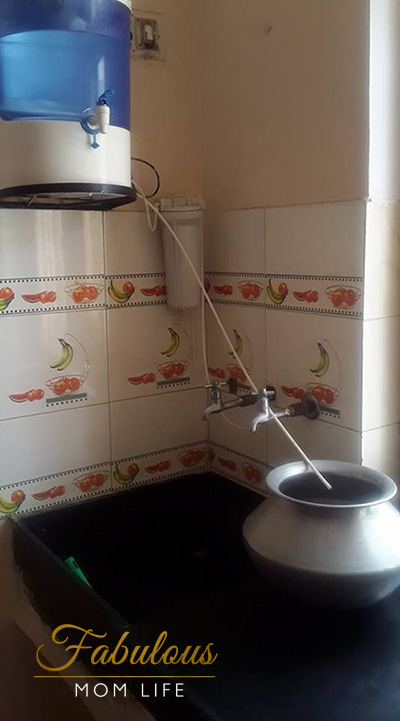 Hema also uses this water for Air coolers and car wash during summer.
Sumithra also saves RO waste water by collecting it in bathroom and using it for various purposes.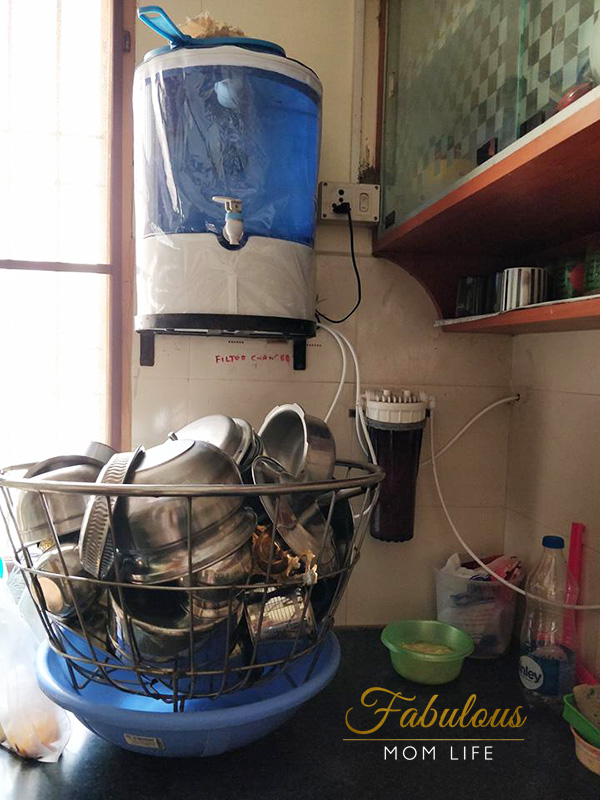 Fabulous Mom Richa also re-uses her RO waste water.
"The water collected by RO and Ac is later used for watering plants, mopping and cleaning. It is also used for washing vegetables," says Richa.
Even Fabulous Mom Sabari saves AC water for gardening and some times to clean their car.
Save Washing Machine Water
Fabulous Mom Rinsy shows how drained water from her washing machine and AC water is sent directly to the backyard plants.
More Ways to Save Water Around the House
Fabulous Mom Krishna says that their household follows a 'one bucket rule' for optimum utilisation of water for cleaning cars,watering and bathing. Here are some ideas to stop wasting water, re-use and conserve it!
1. After washing clothes, use that water for plants. – Hema
2. My society has water harvesting system as well as water recycling plant as well –  Noopur
3. My society has got water harvesting system and also rain water harvesting system. I do my bit by collecting A.C. waste water which is drained out for watering my Tulsi, Rose, Marigold plants!! 
😊 also I use that same water to wipe clean house windows and doors!!! – Monika
4. Mostly many are nowadays using RO purifier but so much waste water is really being not used. In our village during summer vacations, we came with a big blue drum to store the water which is used in farms and other daily house hold chores. – Nilima
5. My apartment has got sewage water system and rain water harvesting. –  – Nilima
6. I never waste a single drop of water like left over ice in milk shake I always put it in indoor plants… no plastic bags no disposable plate – Niharika
7. I use a/c water & clothes washing water for pocha & use vegetable & fruits cleaning water to plant. Even sometimes water left after boiling vegetable.. use it for plant after it get completely cold…
In my mom's house a/c water directly goes to plant. – Silja
8. After washing dishes, use that water for plants. – Hema
9. After boiling vegetables, use that water to clean sink and also to water plants after cooling down. – Hema
10. Collect rain water and use for cleaning. – Hema
A big thanks to all Mommies for their initiatives in reducing water waste and re-using water. And a bigger thanks for sharing these tips for all Fabulous Mom Life readers. If you have any other ways that you use to save water at home, please share in the comments to inspire others 🙂