What is it about rains and a craving for deep fried food? This past Sunday was perfect weather for evening tea and steaming hot snacks. I don't intend to be a spoil sport so I let the family indulge, but I favor shallow fried recipes. And my family loves this quick and easy creation with seasonal corn. Here's what I dished out in a jiffy – Corn Cutlets and re-purposed Dhokla leftover from breakfast.
Corn Cutlets Recipe
Every day, after school, my kids have cereal with milk for their evening snack. But Sundays call for an extra special evening snack. And if it is a rainy Sunday, every Indian husband hints at 'pakora' or something similar 🙂 Here's a less sinful, but very delicious snack that can be made in no time. And it also makes use of the delectable monsoon favorite – Bhutta!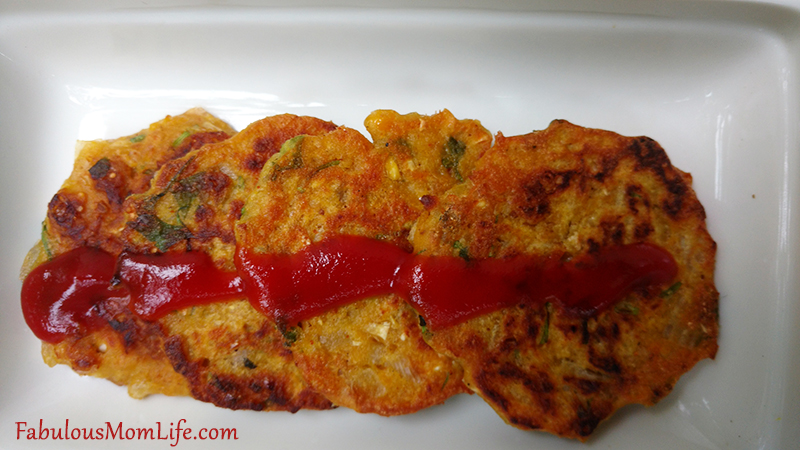 I have been making these cutlets ever since I read them in a Hindi magazine (probably Manorama or Gruhashobha – which one, I cannot remember) ever since I was in college. If I could make it then, it means this is a really simple recipe to follow. Not many chances of going wrong with it.
Ingredients for Corn Cutlets
Here's what you need to make these cutlets. You can double, triple, quadruple the ingredients.
Corn Kernels – 1 cup
Besan (Chickpea Flour) – 1 cup
Onion – 1 medium sized, finely chopped
Corriander Leaves – handful, finely chopped
Seasonings – Salt, Chili powder, Jeera (Cumin) Powder, Aamchoor powder (dried mango powder) to taste
Lemon Juice of 1/2 lemon
How to Make Corn Cutlets:
Grind coarsely the corn kernels in a grinder.
Add to it, the remaining ingredients and all seasonings.
Mix well to make a batter. No water required.
Drop spoonfuls on to a non-stick tawa (griddle), flatten with the back of the spoon and add some oil to cook.
Shallow fry until evenly light brown on both sides.
Serve hot with ketchup or green chutney. I personally prefer chutney, but I am in a minority at my home 🙁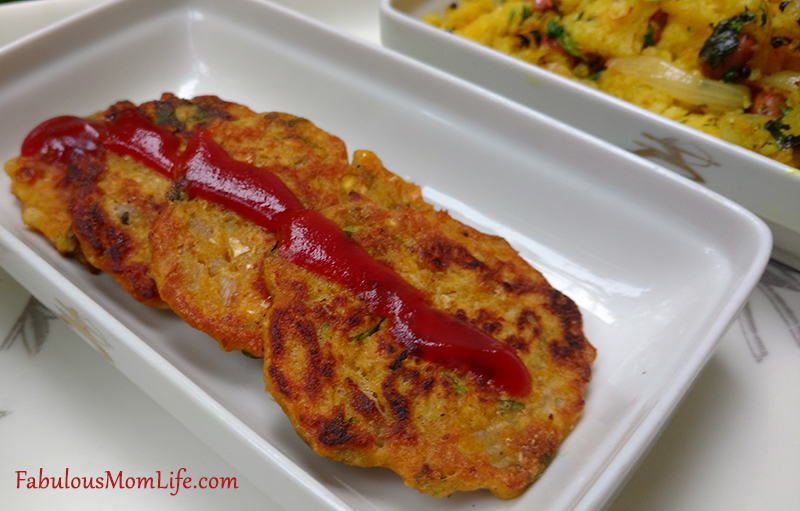 Stir-Fried Leftover Dhokla Recipe
We also had some leftover Dhokla from the Sunday morning breakfast. It did not stand a good chance when compared to the yummy corn cutlets. So, I dressed it up too. Here's how we 'stir fry' leftover Idli or Dhokla to make an evening snack. It is fairly common and many households make this.
Ingredients for Stir-Fried Dhokla
Dhokla – 1 cup, chopped or broken into pieces
Onions – 1, medium, sliced
Peanuts – 1/4 cup
Curry Leaves
Corriander Leaves
Seasoning – Mustard seeds, Salt. Chili Powder
How to Make Stir-Fried Leftover Dhokla
Heat oil and splutter mustard seeds (rai/sarson)
Add peanuts and cook till they begin to explode.
Add sliced onion and cook till translucent and add salt and chili powder.
Finally, add the chopped Dhokla, mix well and cook for 2-3 minutes.
Add chopped corriander, mix well and cook for another 1 minute.