Planning to organize or re-organize your home? Your entire life? Here's the inspiration you need. I have just finished reading the book Organizing for your Lifestyle by Jane Stoller (cover to cover…every single word!) and am filled with ideas and plans to organize more than just my home. Read along and I will show you what I loved most about this book.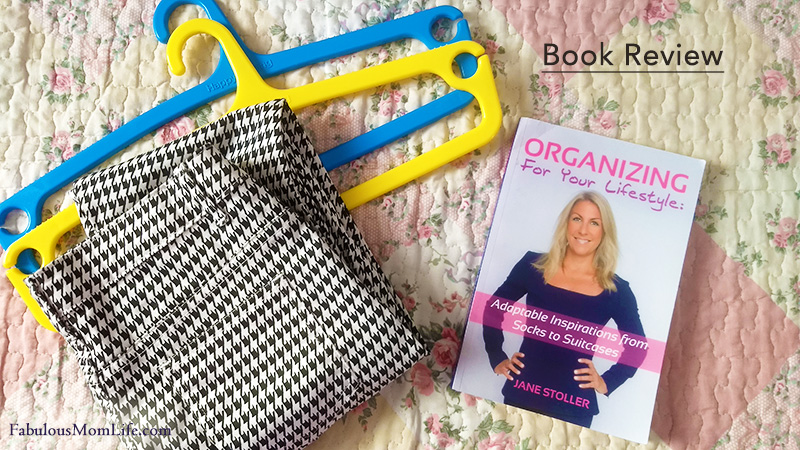 Jane Stoller learned through her own lifestyle, to adapt to new places and spaces. She discovered how organizing can make one's life orderly and chaos-free. And she shares some real gems in her book. From homemaking gurus to Fashionistas with enviable closets, she borrows advice from experts in different fields to come up with her own organizing systems.
Organizing for Your Lifestyle by Jane Stoller – Review
When I first read the introduction and found that Stoller is a single, working woman, I thought I might not find the book very useful as my organizing concerns in a full family are very different. I was right in some ways and wrong in some. Read on to know what I think after completing this book.
The book Organizing for Your Lifestyle by Jane Stoller is broken down into practical categories –
1. Importance of Organizing
The author recounts the numerous benefits of living an organized life including less stress and budget control. Even if you completely realize the necessity of being organized, I still recommend you read this. It always does good to remind yourself why you need more sanity in life.
2. Closet Organizing
This section makes up for the largest part of this book. And there are some gems to be found in here. Like I said earlier, it is written from the perspective of a single woman. So there is a whole lot of advice on organizing your outfits, designer wear, casual wear, bags and shoes and fashion accessories. You will also find valuable tips on how to correctly store and take care of your valuable purchases.
I was also pleasantly surprised to find shopping and style advice thrown in by many experts. Having the right motives when shopping is the first step to a clean and organized closet. It was a pleasure to see advice by Marie-Anne Lecoeur whom I had interviewed for my Celebrating Christmas Magazine and whose Chic and Elegant French style I adore.
You might find that you do not have an 'Ikea' near you as the author suggests. But Spacewood and the likes are bringing all kinds of Ikea-type furniture and innumerable closet solutions to us. It is all about adapting the author's advice to the closest alternatives we have.
3. Bathroom Organizing
From decluttering missions to storing and linen folding advice from experts like Martha Stewart and Stoller herself, this section is chock full of tips and tricks. And throughout it all, you will find extremely practical advice on buying quality products in the first instance.
4. Kitchen Organizing
This section could have been so much more. Being an Indian mom, the kitchen is a big part of my life. I found a lot of useful advice here and was happy to see that I am already following most of it. Doing a half-yearly or yearly review of your stocks is a great idea. We forget about so many things lying unused that should be discarded. Grouping objects and labeling containers is something we already practice in India. But some advice is more suited to American or European countries. Also, the entire focus on meal planning is with reference to a single woman. A mom has so much more to plan. Kids are HUNGRY and need their nutrition as well as a certain amount of junk.
But that isn't saying that Jane's advice isn't of much use here. It is all about adapting the basic principles of kitchen organizing to your own lifestyle. And she nails it with just one sentence – "Organize so your mother can cook in your kitchen". That does it for me! That does it for everyone in any part of the world. If your mother can cook without criticizing your organizational abilities, you have achieved zen lol! No need to read any other book on the subject ever!
5. Travel Essentials and Packing Organizing
I am very glad this was included in this book. There was a time when I was working as an intern and could pack a perfect suitcase in 30 minutes. I always had all my essentials ready. Those days are long gone but after all these years, I am finding myself traveling frequently again. And I was groping in the dark until I read Jane's advice and all my packing skills came back. You will love this section whether or not you are a frequent business traveler. After all, an emergency travel can come up any time to anyone!
6. Books
Organizing books is a section I was very much looking forward to, but unfortunately I did not find too many new ideas here. This is mostly because we do not display anything outside of closed shelves too much in India. EVerything gather's dust. So functional and pretty have to be the same here. Inside of the book shelves, my approach is pretty much the same as Jane's. I organize them mostly by their spine with the titles facing out and sometimes stack vertically and horizontally to break the monotony.
But unlike grown up's books. kids's books come in all shapes and sizes. Some of them are too thin to read their titles from their spines. How to organize these is something I am still working on.
7. Storage Room Organizing
A storage room is what we have as lofts or under-the-staircase space. Some of you might be lucky to have an entire room dedicated for storage. I had one in my old home. Jane shares a lot of practical advice on how to use if effectively and keep it clean and organized at all times.
My Thoughts
I was in two minds when reading this book. Most of the closet systems and the amount of work required was impossible to put in as a mom and with space and availability of certain objects mentioned, being different here in India. For e.g. the recommended things to be done the 'night before' are multiplied 5 times for me. Mums and dads have divided responsibilities in a big home and the closets are my job.
On second thoughts, I realized that the basic essentials of organizing are the same. This section gave me a whole lot of ideas for organizing and reminded me yet again that I have my own life (and my own shopping to tend to…yay!). It also gave me a very valuable lesson. I might not be an organizing junkie like Jane Stoller was since childhood. But it will do me great benefit to bring up my children with that attitude. The entire 'single woman' perspective of the book that I was lamenting as I began to read it, changed drastically. I realized my daughter would be out of the house in a few years and would need each one of these tips to be able to concentrate on her studies and work away from home.
I recommend this book to all those looking for basic self help in organizing their homes and their lives.