Gita: The Battle of the Worlds, by Sonal Sachdev Patel and Jemma Wayne-Kattan is the perfect way to explain the real essence of Gita. Not just children, even adults will find it very relevant to make the importance of Gita teachings felt in our personal lives and not just as a religious text. Children of ages 10 and up will find this to be an important tool for learning and adapting the teachings of Gita and the basics of Meditation in modern times.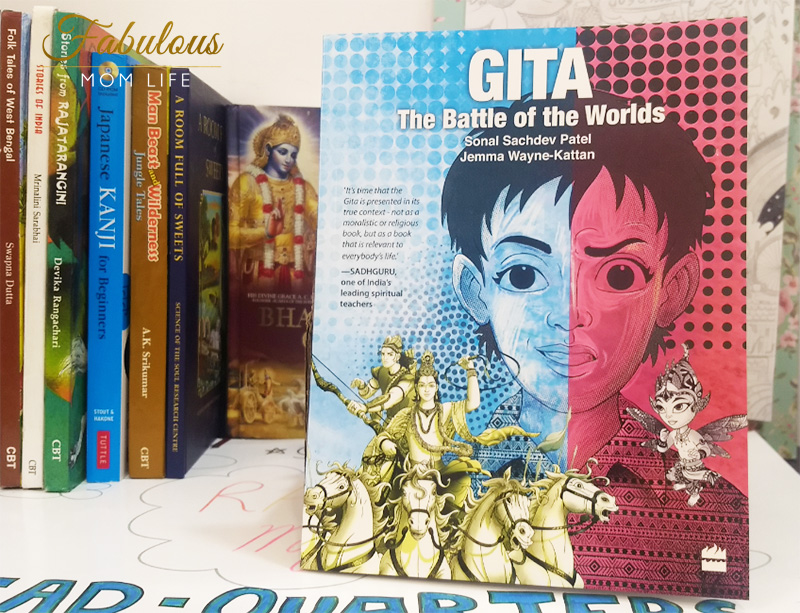 The Essence of Bhagavad Gita
The Bhagavad Gita has always been, for most of us, a scene from the epic of Mahabharata. While the teachings of Gita itself are gems to collect, most people find the verses relevant for Arjuna, who was being mentored by Krishna before the battle of Good vs Bad. A select few apply the teachings to their own lives. And similar teachings pass on to our children, who grow up without realizing that the teachings of Gita are relevant in our personal lives and the battle of Mahabharata is not mythology – it takes place everyday within our minds.
Every single day, the Good and the Bad that reside in us, fight it out. Only true knowledge and enlightenment can help us make the Good victorious. In a very relatable example, this book attempts to explain this to the young reader.
Review – Gita: The Battle of the Worlds
An 11 year old boy loses his father and, unable to cope up with this phenomenal change, he turns bitter and angry. Moms of preteens will understand this emotion perfectly. A pixie-like creature 'Sanjay' (from the Mahabharata) comes to him and tells him that his emotions are being caused due to a battle inside his body. Prince Ego (Duryodhana) is winning over his emotions and causing this pain, misery and negativity. Sanjay offers to go inside and look for Prince Arjuna to defeat Prince Ego. The journey of Sanjay inside Dev's body, through the Spinal cord and different 'Realms' (Chakras), and the resultant feelings that are caused in Dev, are explained beautifully.
Sanjay crosses through the lower chakras i.e. realms of material gains which have nothing but misery – because Prince Ego is ruling over them. Towards the mid-section, he witnesses the battle where Arjuna is having second thoughts about defeating his own kin. In simple language, Krishna explains to him why he should fight against Ego. And the battle here is not to save a kingdom – it is to save Dev!
What I Liked Most
Relevant: The religious teachings of Gita are very easily transformed into real, modern lives and made more meaningful for all of us, and especially relevant for children.
Relatable: The central character, his lifestyle, his feelings and emotions are all very relatable. Modern day children will find him a lot like themselves and relate to his thoughts.
More than Gita – Basics of Meditation: The title of the book is Gita, but I found the most compelling thing to be the imparting the knowledge of the different realms in our body. Sanjay asks Dev to sit still while he goes inside and urges Arjun to fight. Fidgeting at first, Dev is finally able to bring his mind to a calm state. I found this to be an excellent starter guide to meditation for children. I couldn't have explained the chakras in a better way to my daughter.
Not Black and White: This is a book for responsible grown-up children. It does not list things as Black or White. Just like even Ravana had his own merits, the book does not fail to point out that Prince Ego was not without talents, and had his own challenges as well. Similarly, the authors do a great job in describing Dev's state of mind. You will never want to blame him for his outbursts and rudeness. His character is beautifully penned and you will see him exactly for what he is – a vulnerable boy unable to cope up with all that is suddenly being expected out of him.
Gripping: For a book titled Gita, this one will surprise you with it's engaging storyline. This is not another book explaining Gita teachings that the kids will never read more than a few pages. The story is weaved so beautifully that your child won't put it down until they have reached the last page.
Spectacular Graphics: I simply cannot end this review without a mention of the incredibly detailed graphics by Soumitra Ranade. The book simply would not have been what it is without the graphics. It is the graphics – from describing the realms – or the various expressions of Dev – that give you a real glimpse of the pain, the enlightenment and the Spiritual journey inside our minds and bodies. And the Mandala graphics and traditional Indian borders make it a treat to flip the pages again and again even after you have read the book. The cover graphic is an excellent example of the illustrator's creative abilities.
Final Thoughts
I consider myself Spiritual – and not Religious. And I would be lying if I said I wasn't cynical about the book. I have been asked to review countless books 'about India' written by Indians living abroad and most of them made me cringe (I know I am never this brutally honest, but let me say my piece just this once). But that is far from being the case here. Both authors – Londoners, to be exact – seem to have a deep understanding of not just the teachings of Gita – but also of the fact that the texts are so much more than just religious discourses.
This is a book I will gladly hand over to my children to learn from because it does not dwell upon religion at all. In fact, this is exactly the kind of book that a modern Indian mom who wishes to raise Global Citizens who are also in sync with their roots, will give to her children. It stays away from the twisted derivations of Hinduism as we see around us, and focuses on what the texts have really tried to teach us. It enlightens children about the battle raging inside all of us in the modern day scenario – and guides them on how to win it.
And it does what a good children's book should always do – leave space for creative imagination. It opens a wide number of possibilities inside the children's mind and allows them to derive their own meanings of Gita texts as it would apply to them in their life. It can be a little difficult for children to understand the deep rooted meaning in one go. I cannot say that my 12 year old understood every little detail or knew the meaning of every word used. But she quickly got the essence of it all and was introduced a whole set of new words.
The book is going to be with her as she enters her teens to re-visit and take more from it, every time she opens it. I trust it to help her make the correct decisions, identify her inner conflicts and come to terms with all that her life ahead has in store. I recommend Gita: The Battle of the Worlds for every children's bookshelf 🙂