Manicures, Pedicures, Food, Fun, Music – and matching tees! What could be a better idea to spend a lovely 'Girls Day In' with a Mommy Daughter At Home Spa Day. The Girl Gang in my home flocked together rocking some Uber Cool matching tees from BonOrganik, dipped our feet, painted our nails and had a whole lot of fun. What a perfect idea for a hot Indian summer afternoon. And even better for a Mother's Day party at home!
Being a Girl Mom
I remember the first time I was pregnant. I wished so desperately to have a baby girl! To dress her up, comb her hair into ponytails and buy all kinds of girly stuff for her. And God granted that wish! And not just once either! So as much as I love to have a blast with my 3 little dragons, I don't mind getting all girly and bubbly with my very own #GirlSquad! Come along as I walk you through the fun we had together.
Matching Mother Daughter Tees from BonOrganik
When you are a squad, you dress like one! And the first step towards this were our Matching Mom and daughter tees!! BonOrganik has the best collection of them all! And what's even better are the sizes they offer. I was able to find kids sizes for Big Sis too who is getting a little difficult to find appropriate sized clothes these days.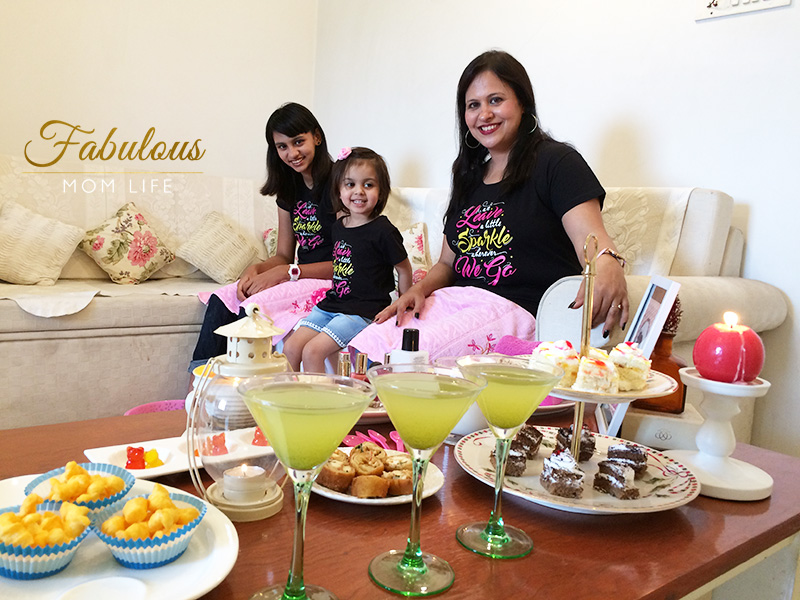 I have really been stalking their Girl Power tees for long and wanted us to wear them. But Big Sis loved the ones with the slogan, "We Leave a Little Sparkle Where We Go". I loved them too! Not only was it a Squad take on my favorite quote "She leaves a little sparkle wherever she goes", but it was also perfect for our Glam day idea. Our Mom and Daughter matching tees add a sizzle to our Spa party like nothing else ever could!
The tees are super soft and the three of us were cool and comfortable in them throughout the Spa session and for the rest of the day. Big Sis insisted on wearing it out for her outdoor time with friends and flitted about the entire evening in ease and comfort.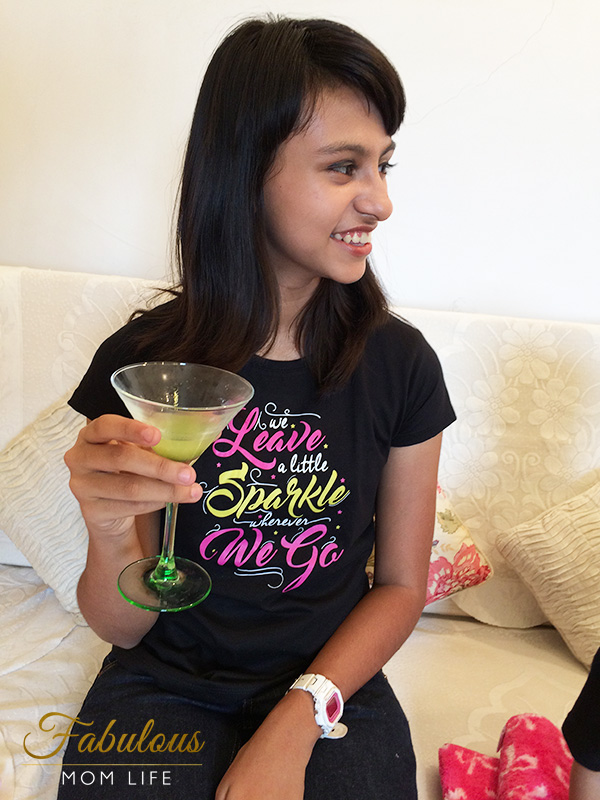 Setting Up The Spa
Big Sis would have loved a full blown spa – complete with facials too. But since Lil Sis neither has such long attention spans nor is her skin ready for any such treatments, we settled for Manicures and Pedicures. They are quick, fun and give you the Salon experience. And what girl doesn't like Nail Polish? All three of us certainly do!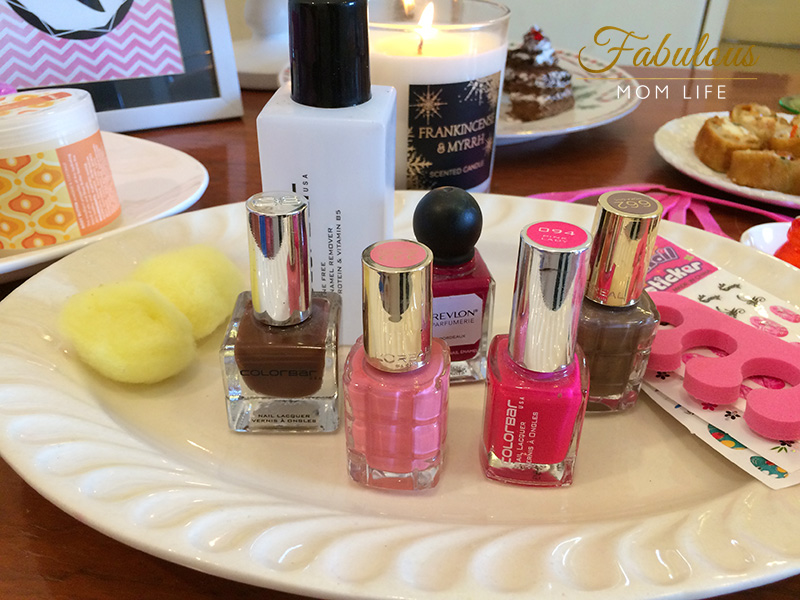 An assortment of Nail Polishes tempted the girls although they both chose – any guesses – yeah – light pink…lol!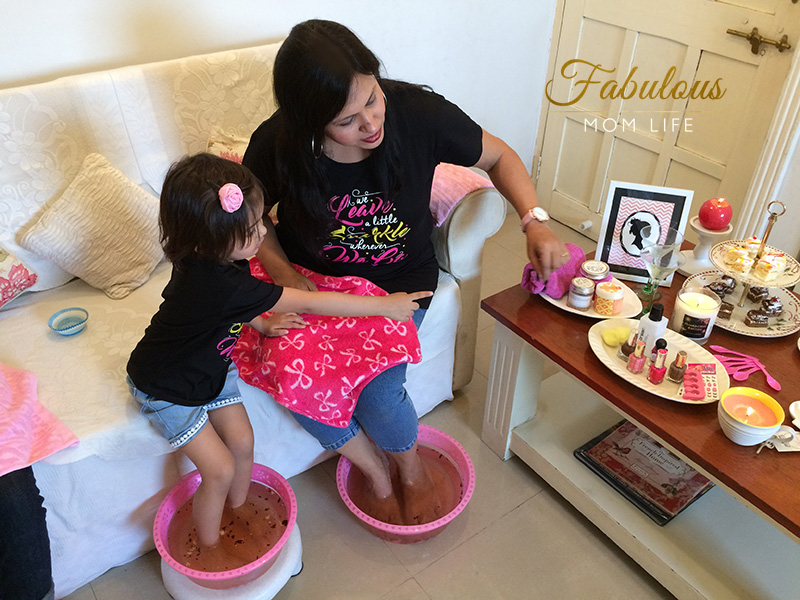 The fun of using a finger separator and the cute little nail stickers was the high point for Lil Sis who enjoyed every bit of it.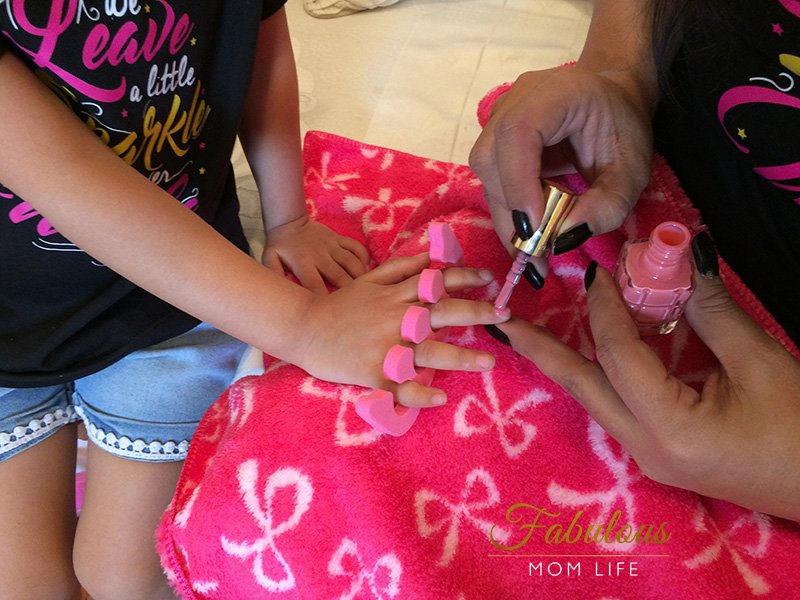 Here's a close-up 🙂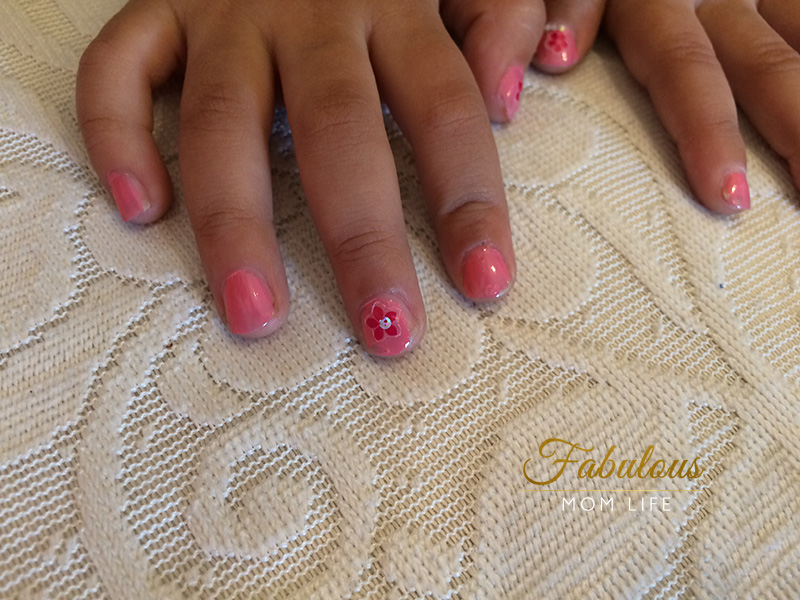 Big Sis tried her hand at nail Polish application – A must have talent IMO lol!
We made 3 Pedicure stations with large bowls.
I used a very fragrant and soothing Hand and Foot Soak from AngTatva for our pedicures. My favorite FabIndia coconut based body butter was our pedicure massage cream.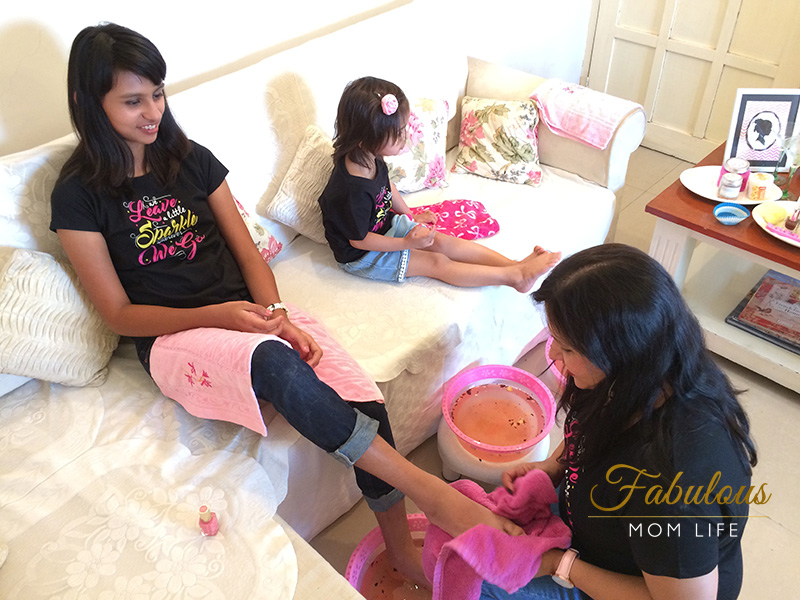 And of course, we enjoying some tasty snacks while getting ourselves all pampered by Mamma!
Easy Nibbles to Fuel Us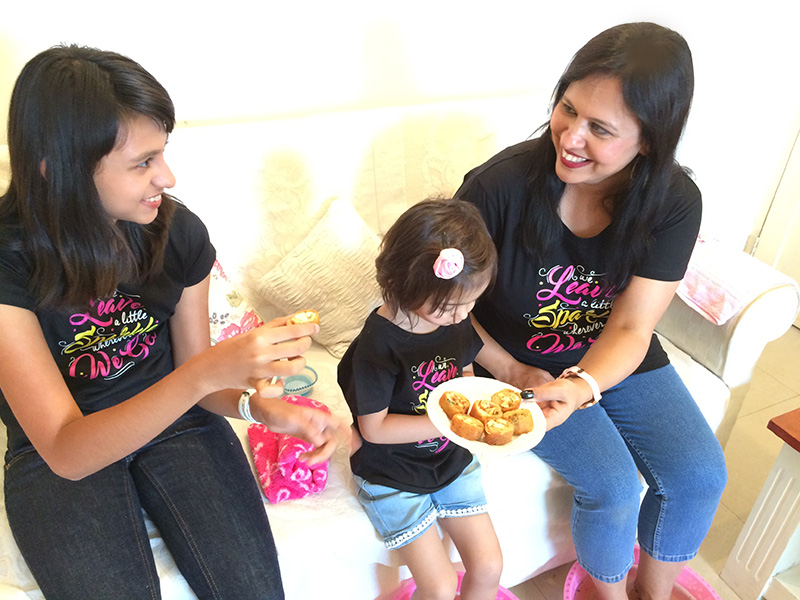 Looking good is lots of hard work! And it sure makes you hungry! While we shined our fingers and toes, tempting little nibbles kept us fueled. We had bite sized iced cakes in chocolate and butterscotch, paneer rolls, corn snacks (Puffcorn) and Lil Sis's favorite – gummy bears!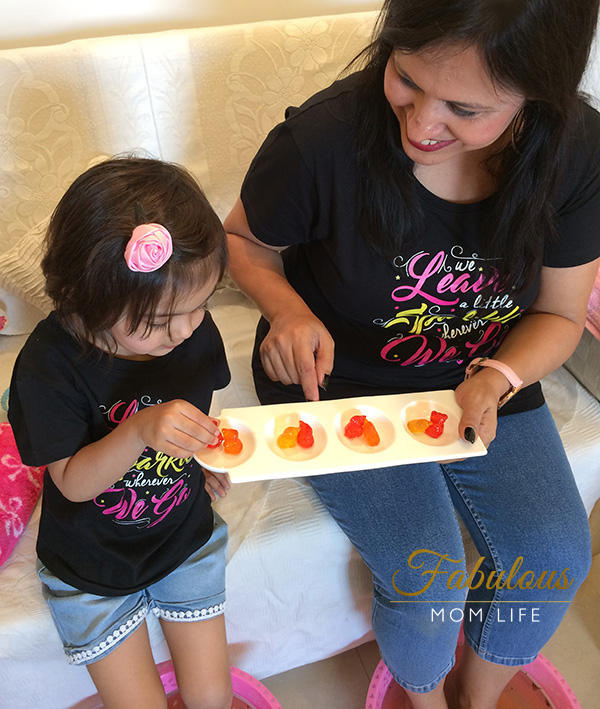 To cool down the Indian summer heat, we drank AamPanna which received a makeover by being served in cocktail glasses.
An at home Salon/Spa is such a wonderful treat for little girls and a lovely way to spend time with them. From singing songs together to counting the gummy bears, it was nonstop fun and laughter for us.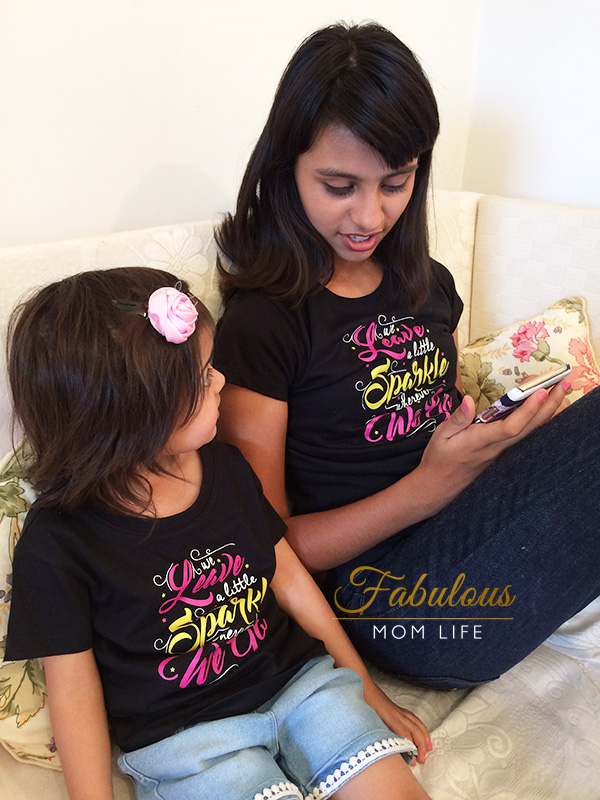 Lil Sis could not get over the fact that Mommy and Big Sis were wearing tees that matched with hers. She kept saying 'matching' all the time.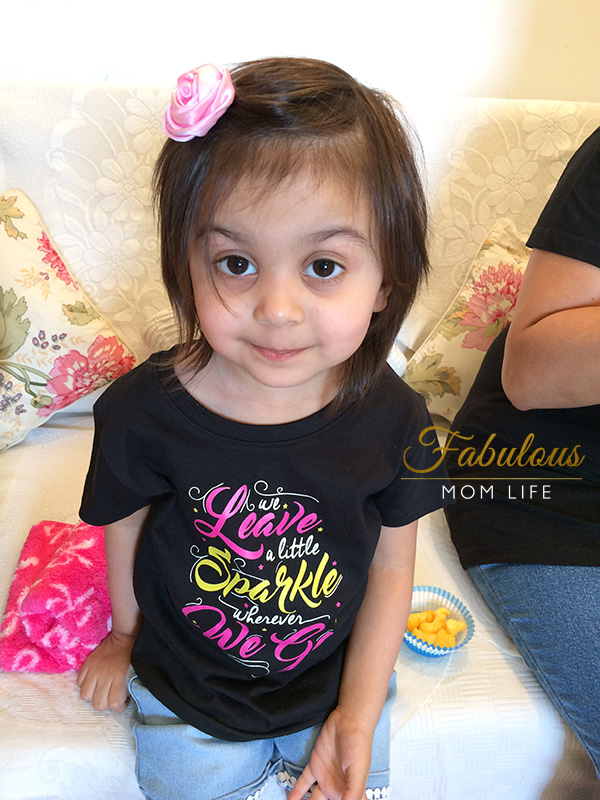 I am sure little party of ours has given you some serious goals! Now I would really like to hear how you like to spend some Mommy-Daughter or Mom-Son time? Any plans for Mothers' Day?