The games and activities at my daughter's 3rd Peppa Pig themed birthday party were based on the TV series. All games reminded the kids of various details from Peppa Pig and were easy enough for all ages to play.
Party Games Where Everyone Wins a Prize
I am already, kind of, against competitive games at birthday parties. They are a place to have fun and not win and lose. Especially so, at toddler parties. For all my kids' birthday parties up to the ages 5, I have included games where every child wins. Same was the case with our Peppa Pig birthday party games.
Duck Pond Race Game
The duck pond is an essential part of Peppa Pig. The most popular party game involving ducks is fishing ducks out of an inflatable pond using a toy fishing rod. However, that sounds totally wrong to me! Who 'fishes' ducks out of ponds?!!! My kids agreed too. So, we had a Duck race instead.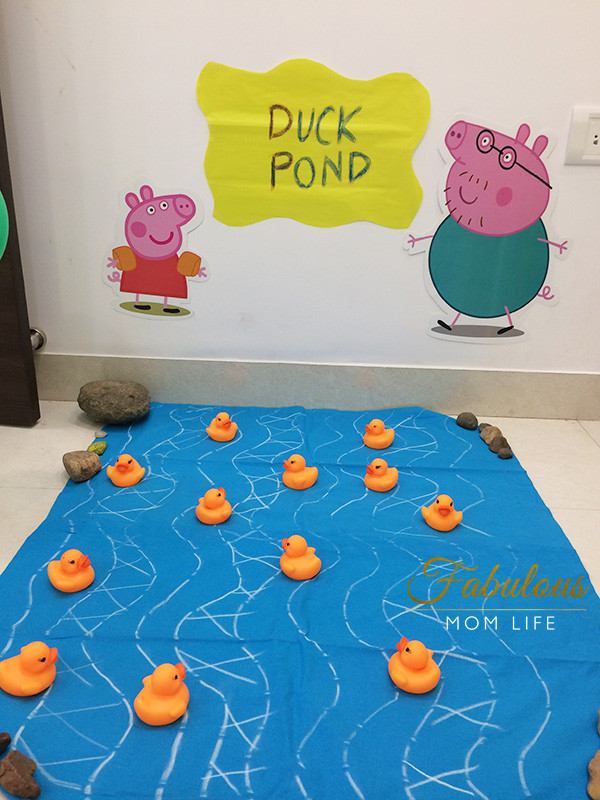 Remember the blue bedsheet I used for our Peppa Pig Party Backdrop? I used the pillowcases that came with the set to make this pond. Using white chalk, I made waves. One one or two waves, I made a cross pattern.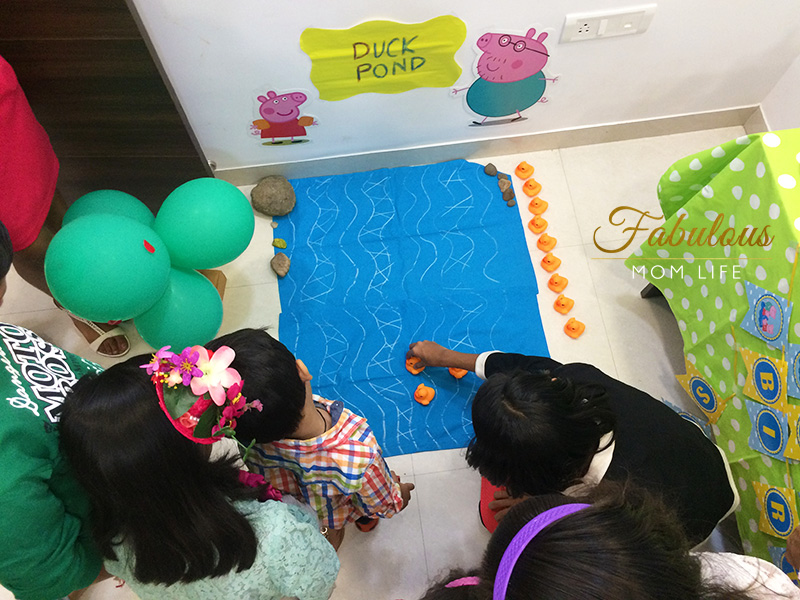 The game was played like 'Snakes and Ladders' with a dice. Each child took turns rolling the dice. Their duck would swim ahead the number of waves that came on their dice. If the duck landed on a crossed out wave, they had to go back to the starting point.
Like I said, everyone was a winner. So when the ducks reached the finishing point, the kids got to keep their rubber duck. You can also turn it into a win-lose game by keeping prizes for the first few whose duck reaches across the pond.
Grandpa Pig's Garden
Grandpa and Granny Pig are one of the most importantly featured characters in Peppa Pig animated series. Grandpa Pig is fond of gardening and there are many episodes around Peppa and George's experiences at his garden. So we decided to recreate Grandpa Pig's garden for the party and made a game around it.

Using green table mats and pieces of green crepe paper, I made the garden area. I used our pretend fruits and vegetables cutting set from our Christmas gifts to make the garden produce. Each fruit and vegetable was placed over a small tub of Play Doh – one of Lil Sis's favorite things currently!

The game was of 'ring toss'. The children chances to throw the ring to capture any fruit or vegetable. If they were successful in ringing a fruit, they won the Play Doh tub under it. They got as many chances as they needed to win one tub. The littlest ones got to throw from a close distance while older kids had to throw from a distance.

Musical Muddy Puddles
What's a Peppa Pig birthday party without Muddy Puddles! Peppa and George love to jump in muddy puddles. We turned 'Musical Chairs' into Musical Muddy Puddles for this party.
Instead of lining up chairs, I laid our several brown mats for the game. They were the muddy puddles which the children had to jump upon when the music stopped. Whoever went out, got a roller-stamper-marker pen as a prize. So nobody minded losing! I did give the winner an extra toy 🙂
Treasure Hunt
Last but not the least, we borrowed another idea from the show. Grandpa and Granny Pig create a treasure hunt for Peppa and George where they find chocolate gold coins at the end of the hunt. My daughter loves that episode and I decided to do the same for her!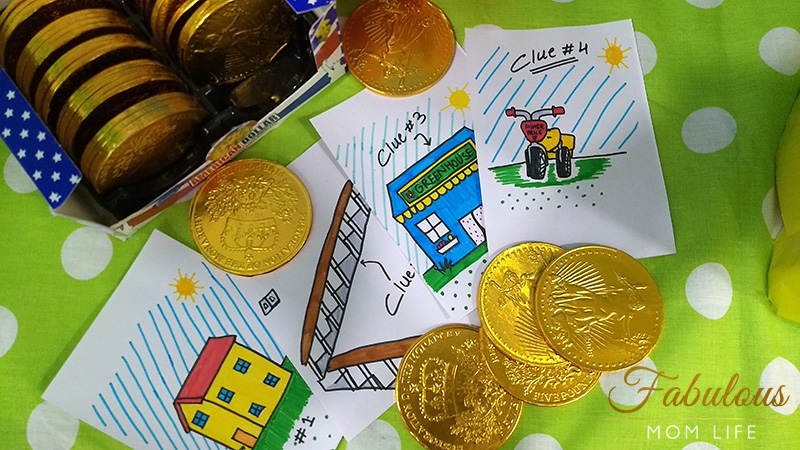 The treasure hunt was easy enough for toddlers to solve and our little Peppa Pig fan had the greatest time solving clues and finding the hidden treasure. Sharing the detailed clues of our toddler-friendly treasure hunt in a separate post.