This Halloween, my kids and their friends did their best to spook things up with their costumes! And I did my best to spook things up with some creative party snacks. Here are some easy Halloween party food ideas that your kids will love.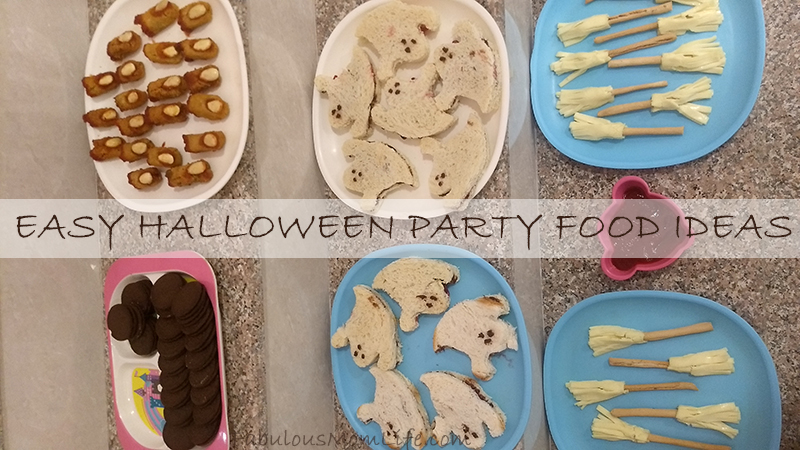 Spooky Halloween Party Food
It doesn't take too much effort to create some interesting and scary (or not-so-scary snacks) for a Halloween party. Cookie cutters and a few interesting ideas are all you need to come up with delicious snacks that also go with the Halloween theme. Giving them creative names adds to the fun. All these easy Halloween party food ideas were prepared in an hour and a half (for about 20 people) except the Pizza baking time.
Here are all my ideas from this year's Halloween kids party.
Ghost Sandwiches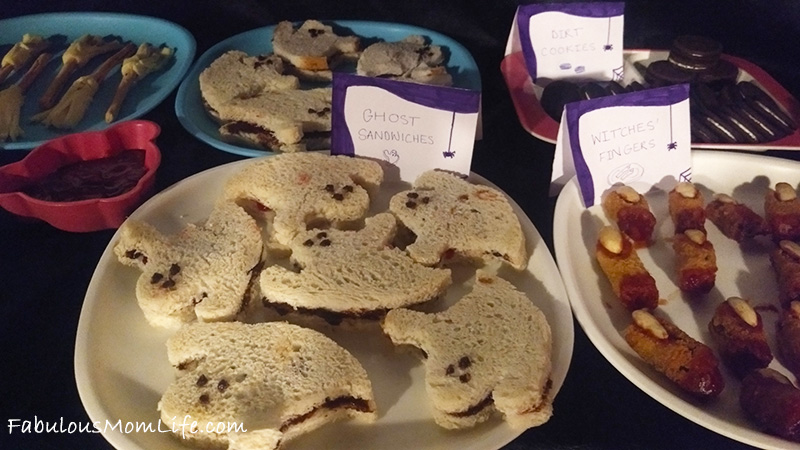 I started off with Ghost sandwiches. Assorted sandwiches can be easily prepared using a Ghost shaped cookie cutter. You will find the exact one that I used and some other alternatives on Amazon India.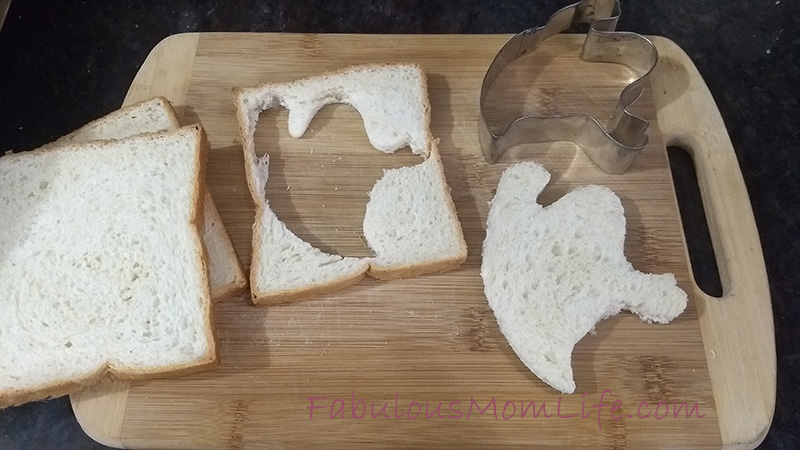 Cutting bread in the shape of ghosts is a task kids will love. My daughter was happy to do the job.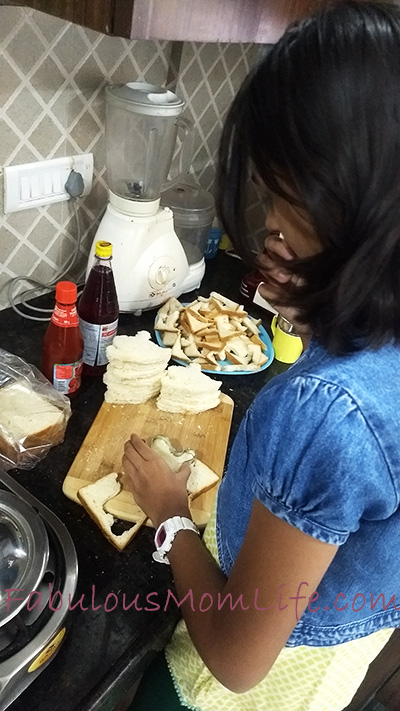 I turned them into sweet sandwiches with fruit jam and chocolate spread. You can also, of course, make savory sandwiches.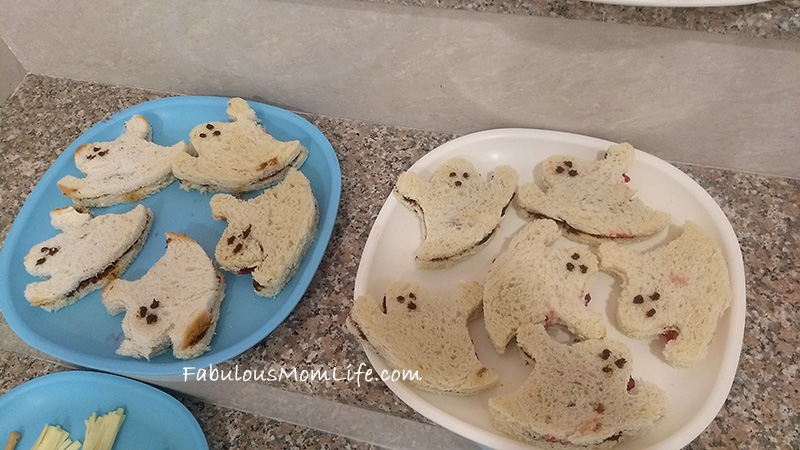 Using a toothpick, I used the chocolate spread to make eyes and mouths of the not-so-scary 'ghosts'.
Witches' Brooms
Next up were the Witches' Broomsticks.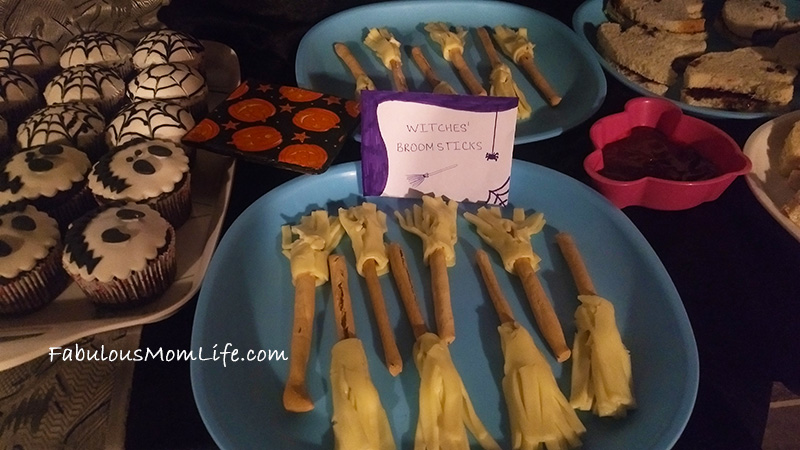 This was my daughter's idea. She had seen them on YouTube.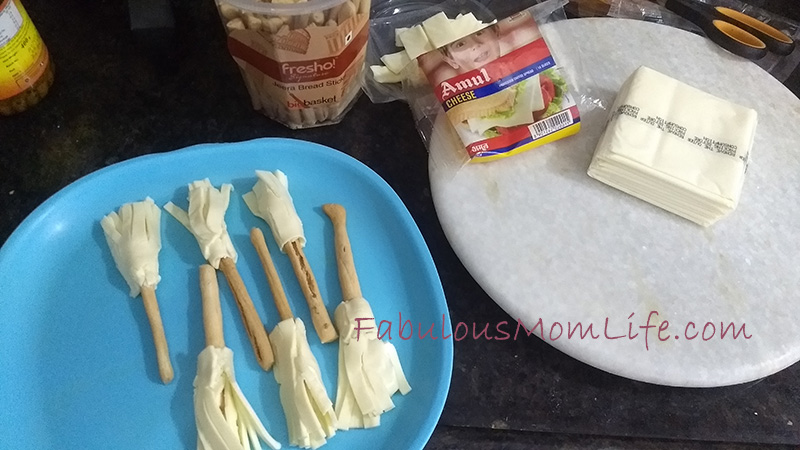 We made slits in cheese slices and wrapped them on bread sticks. The regular slice is too long to make the broom head. Cut the slices into about 3/4th of their size to make perfect broomsticks.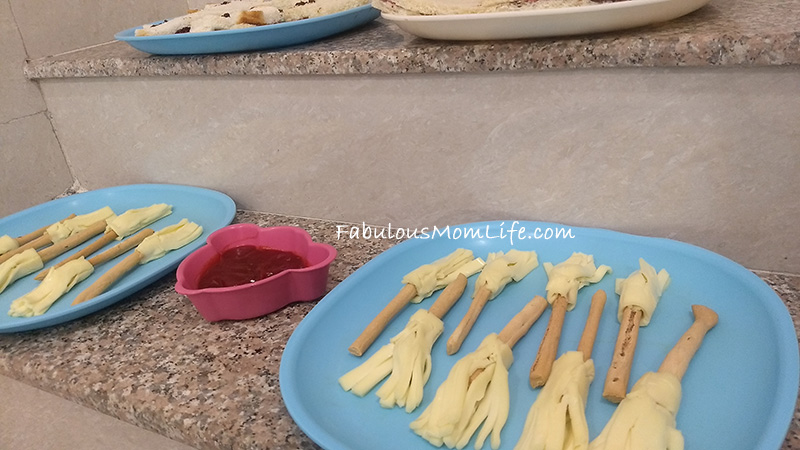 The kids ate the entire thing with relish. They enjoyed the cheese as well as the 'broom stick' after I convinced them that it was edible and not a real stick.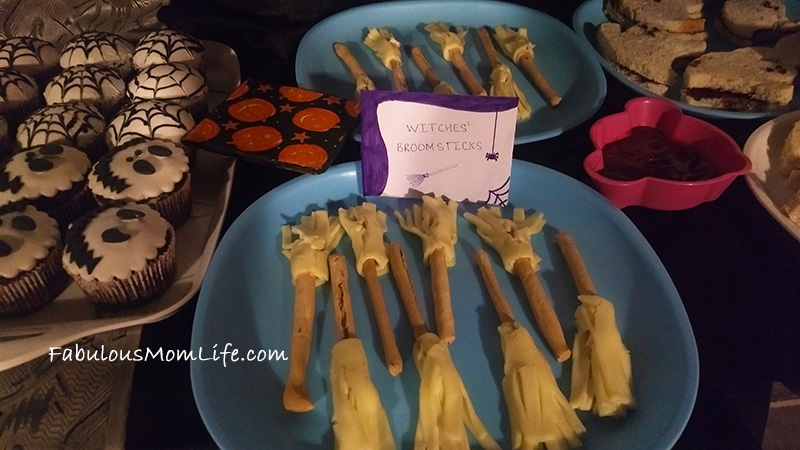 Witches' Fingers
Next up were the Witches' Fingers – freshly cut with blood dripping from them!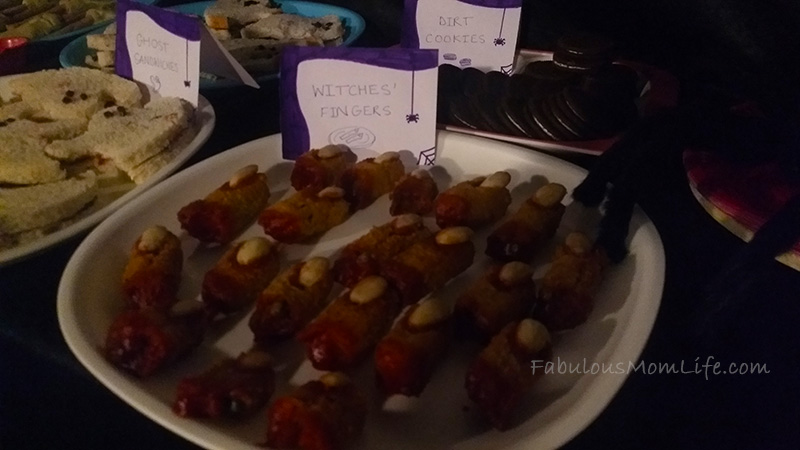 The fingers are really Veggie Fingers from McCains. You can make elongated vegetable cutlets at home for this. The first step is to soak some almonds or better yet, boil them for 5 minutes. This maes their skin loose. My son loved helping out by peeling the loose skin off from the almonds. The peeled and halved almonds became the finger nails.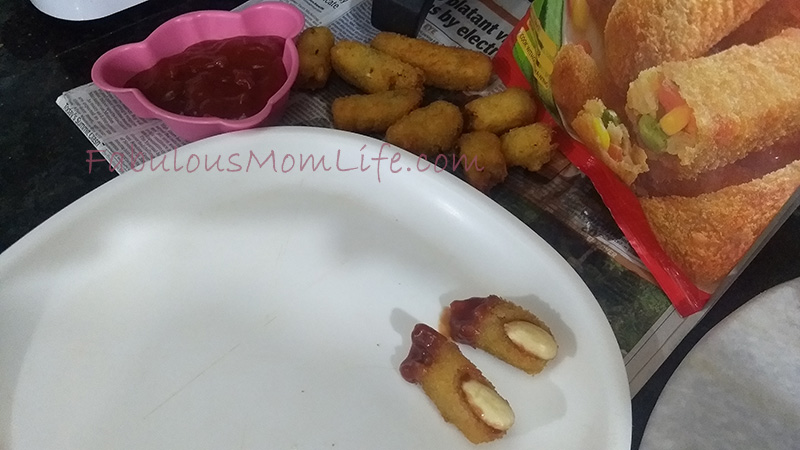 Apply a dab of tomato ketchup o the head of the finger before fixing the 'nail'. That gives the nail a bloodied look also. Then dip the other end of the finger in tomato ketchup to make them look like they are just severed.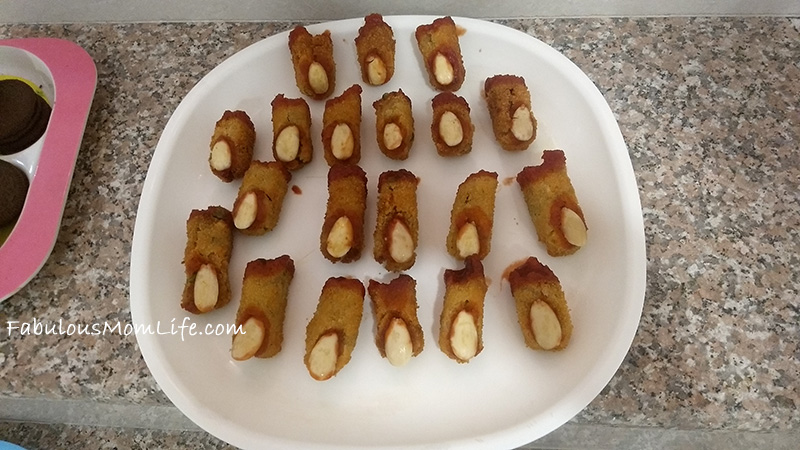 They look unbelievable real and gross!
Spider Pizza
The main item on our menu was Pizza. We always try to keep one major filling item in our party menus.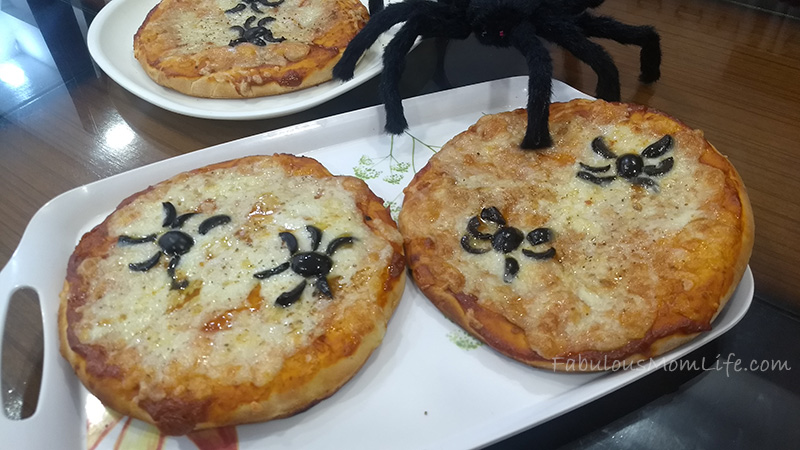 Now my husband may never get tired of saying that he is wary of my parties, but the truth is that he secretly enjoys them. Despite telling him that he need not get involved and I can take care of this one on my own, he was around to help out. Being the Pizza chef of out house, he was happy to make them.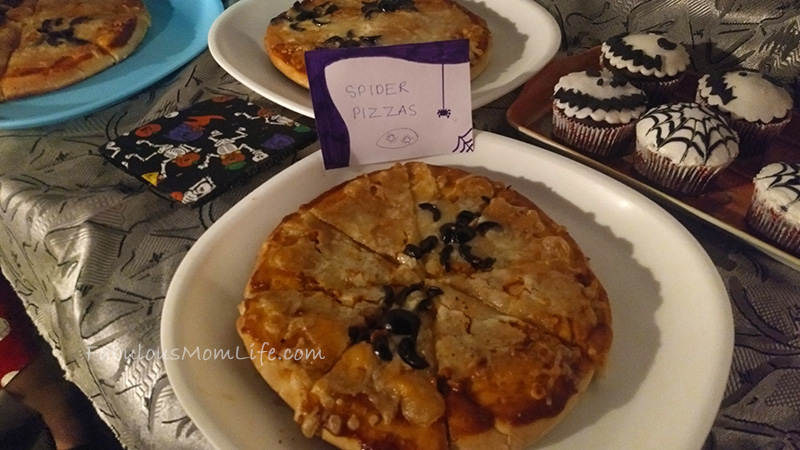 And besides, my daughter and her friends are devoted fans of his yummy pizza and he would never want to miss out on the generous compliments they shower him with!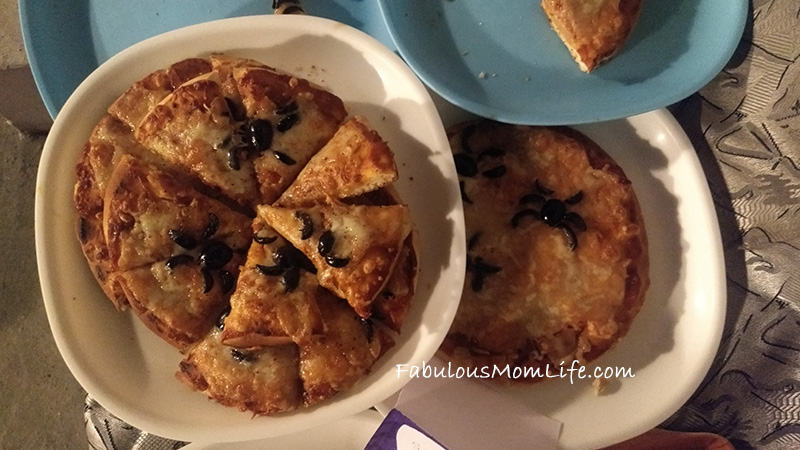 We added Spiders made of Black Olives. I bought a jar of pitted black olives to make the spiders. Daddy did make the mistake with the number of legs a Spider has but I willingly forgave him for it. After all, he did take the most time-consuming job when I had to go take pictures of the party.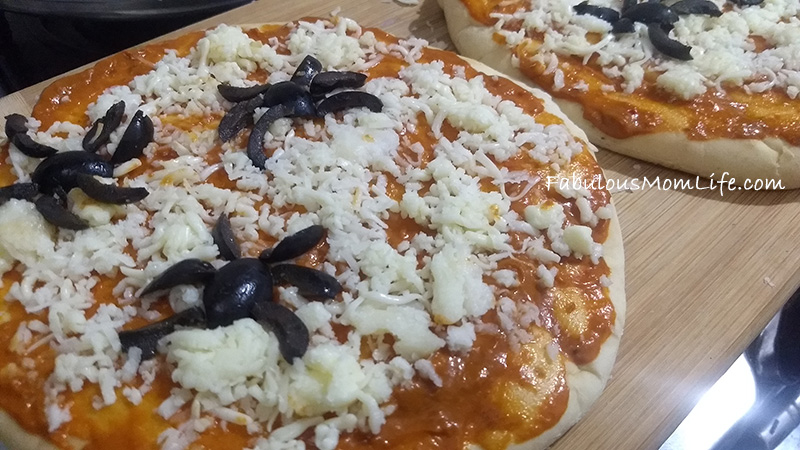 However, our young guests were not so forgiving lol. There is always that one child (wasn't there one in our school too?) who points out that a spider has eight legs and not six!!!
Halloween Cupcakes
My effective working time – whether I am planning a party or writing a blog – is 2-3 hours. That is when my baby sleeps or is busy with her siblings. And due to this, I am always prioritizing. This time, I had to skip my intention of making my own cupcakes and ended up ordering them.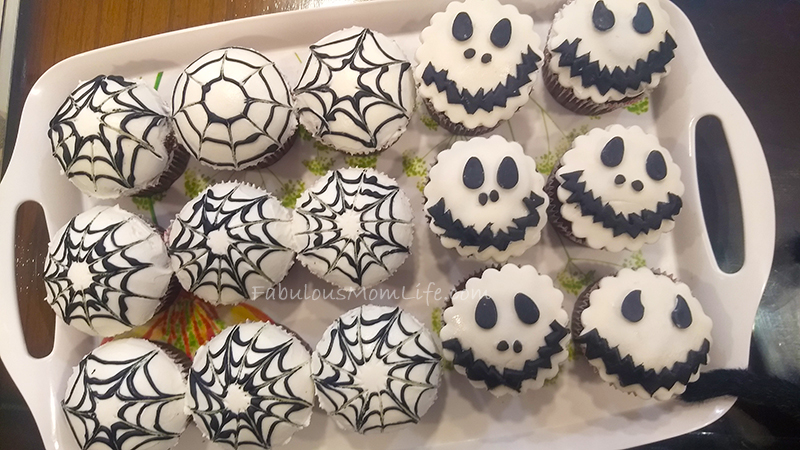 But you can easily make the Spider Web cupcakes using this easy technique from Texanerin Baking.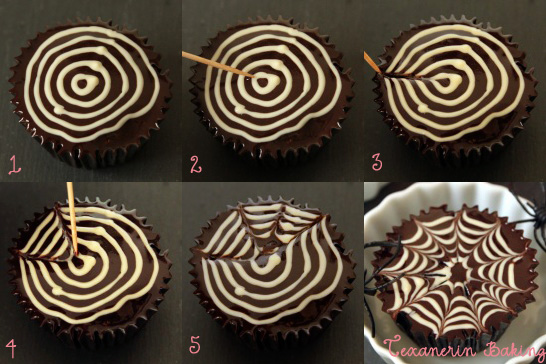 We had Spider Web and Scary Face cupcakes.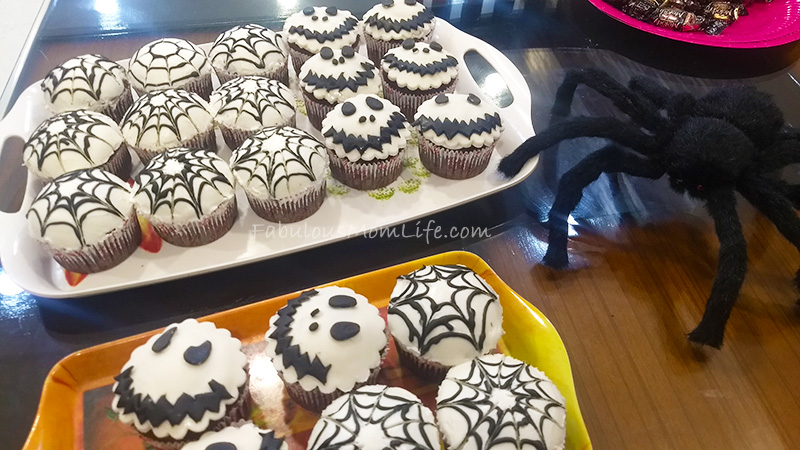 The scary (or not-so-scary) face cupcakes were a favorite my with my youngest. While we waited for the Trick-or-Treaters to return with their 'candy loot', she dug in. And she couldn't resist picking out the eyes of the faces out! I would turn my back for one second and find an eye missing LOL!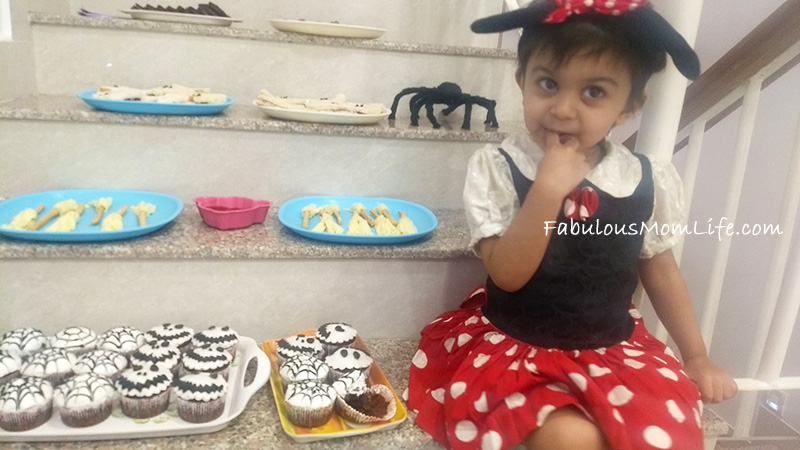 Easy Halloween Party Food Ideas with Creative Names
What's in a name? Everything – when it comes to a Halloween party! Creative names turned regular food items into scary Halloween treats. My in-house artist drew up creative food labels for each item. Here are some things we added to our menu:
Dirt Cookies – Oreo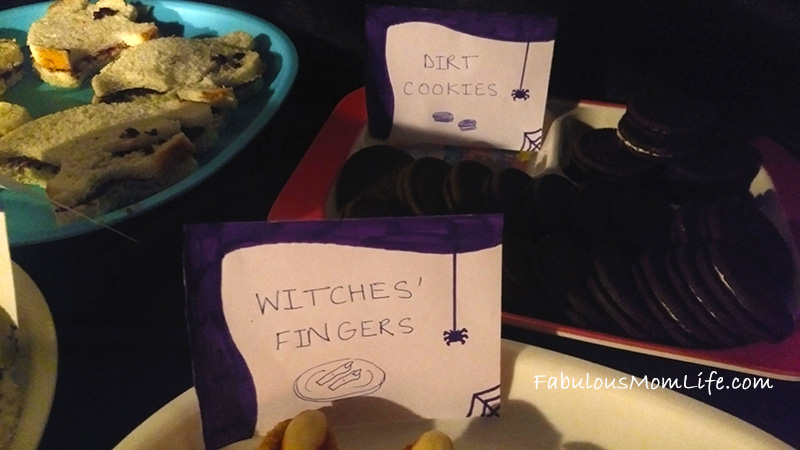 Our childhood favorite and the most popular drink in India – Roohafza – became Werewolf's Blood on Halloween night 🙂
The entire spread was made more interesting because of the creative names and the Halloween spin on each item.
Halloween 2017
Our Trick or Treaters had a lot of fun!
After gathering candy from inside our gated neighborhood, the Trick or Treaters came back to my house for partying further.
As you can see from the cupcakes picture in the collage above, the eyes from the faces continued to magically disappear throughout the evening 🙂
With minimum lights, we had the easy finger foods on the terrace. After the tired and hungry kids had filled themselves up, they played 'dark room'. In this game, all kids except one hide in different corners of a completely dark room. The last child has to go inside the room, grope in the dark and try to find them. I tried taking pictures of it but the room was pitch dark and using my flash was defeating the point of the game.
So there it is! I hope you liked all the easy Halloween party food ideas I put together 🙂 Here is the final list of our menu:
Ghost Sandwiches
Witches' Brooms/Broomsticks
Witches' Fingers
Dirt Cookies
Spider Pizza
Spider Web Cupcakes
Spooky Face Cupcakes
Werewolf's Blood
Next Morning….Leftovers
Cutting the bread for ghost sandwiches results in a lot of bread leftovers. I gathered them all and used next morning for a leftover bread 'upma' or 'poha' whatever you choose to call it :). I stir fried the leftover pizza toppings like onions, tomatoes, capsicum etc. and then added the bread pieces to it.