For my daughter's Around the World birthday party, I wanted decorations that would immediately give the feeling of world travel – without taking up too much of space, because we needed plenty of space for the activities. Here's how we decorated.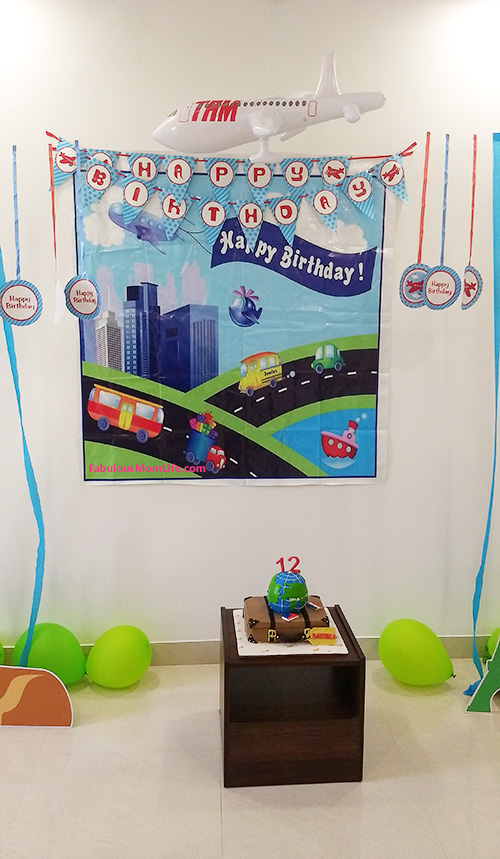 Blue and Green were the main colors for the party. Blue crepe paper streamers provided a flowy sky backdrop and green balloons provided the greenery. I used a transport themed backdrop from Untumble parties.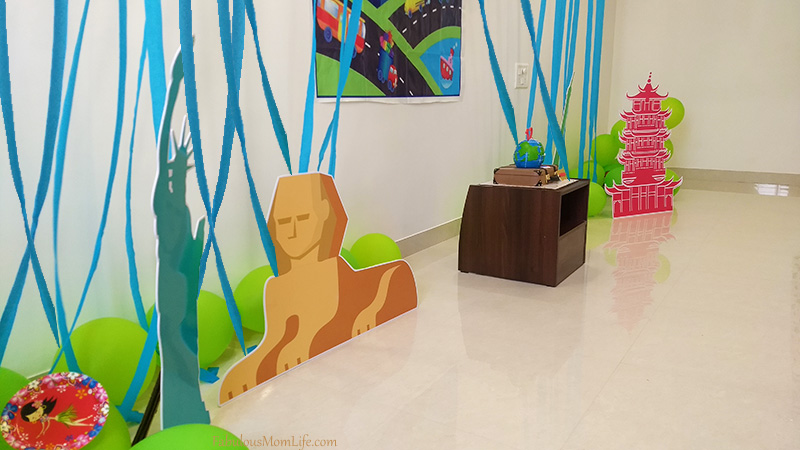 Along the length of the room, we placed foam board cutouts of World monuments and landmarks that Untumble Parties created to perfection for this party. A look at their Cutouts will give you an idea of how creative they can get. But they are not limited to the products mentioned in their. They can create anything customized for your theme. They even created the standee cutouts for my baby's 1st birthday. I will share that experience in a separate post.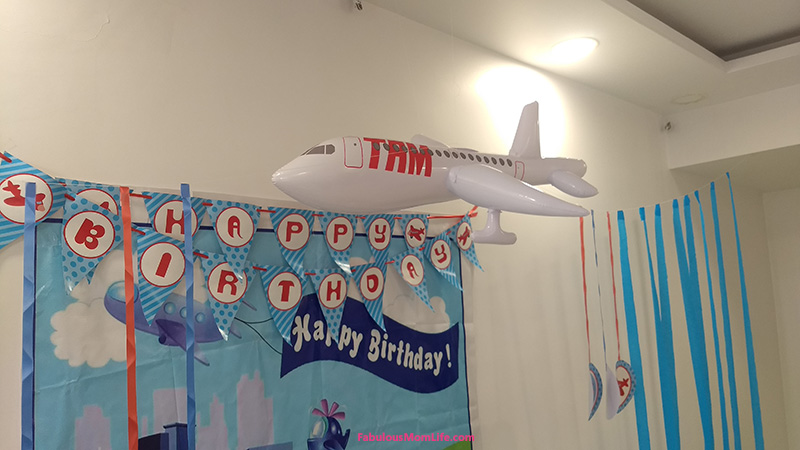 A large inflatable balloon reminded the guests throughout the party they were aboard an airplane which was taking them places! Purchased from Amazon.
Creating 6 Different Countries/Places
Okay, so we did not create entire countries. But we needed 6 symbols from the countries to mark them out clearly. The countries we had chosen for this trip were:
France
USA
Hawaiian Islands (politically, a part of USA but geographically separate)
Japan
Africa
Egypt
Out of the 6 places, we got Untumble to create Landmarks from 4.
USA – Statue of Liberty
Egypt – The Sphinx
Japan – Pagoda
France – Eiffel Tower
Each cutout was 3 feet tall and I used a cardboard backing to create a 'stand' to display them (peeking from below the Eiffel tower).
Hawaiian Islands and African Jungles
I created the Hawaiian islands and the African jungles in a symbolic manner with plenty of green balloons set up in towers.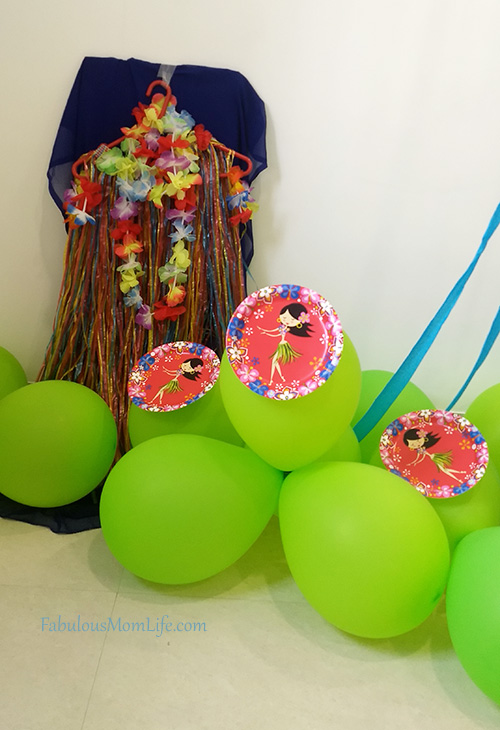 I used some Hawaii themed paper plates (which I bought for a Hawaii themed party that never happened…lol) to decorate and displayed the Hula dance costume which was one of the activities.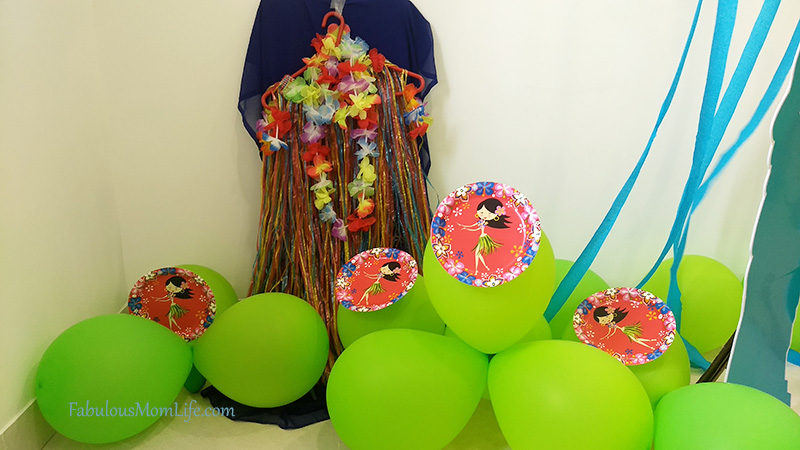 Hawaii, was obviously, placed near USA.
For the African Jungle, we just had a tower of balloons. It was needed for a simple activity for the younger kids attending.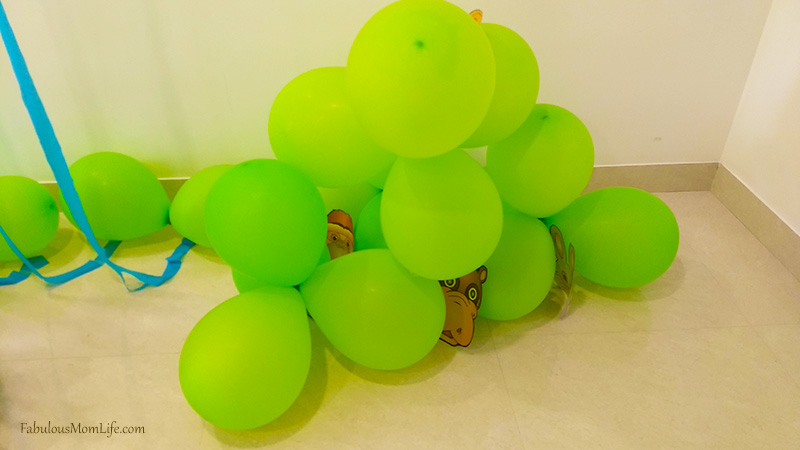 The animal masks hiding inside gave them a jungle feel and the younger guests got to 'find' the animals and take them away.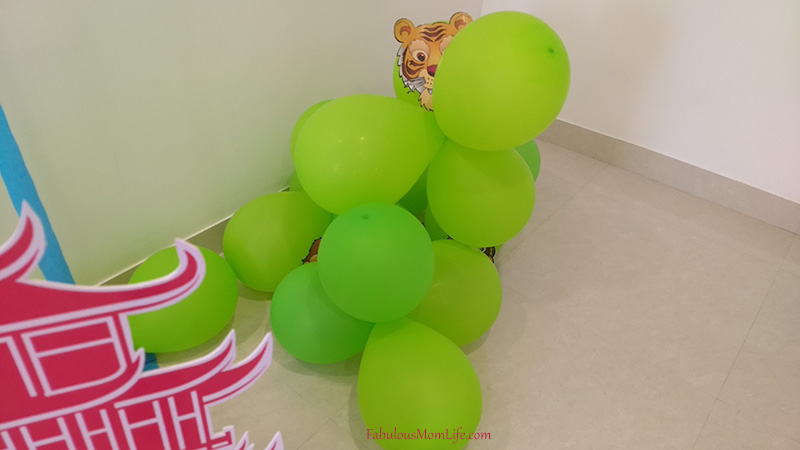 The kids took a lot of selfies and clicks with each of the monuments like they were on a real trip around the world! You will see more pictures in the Activities page.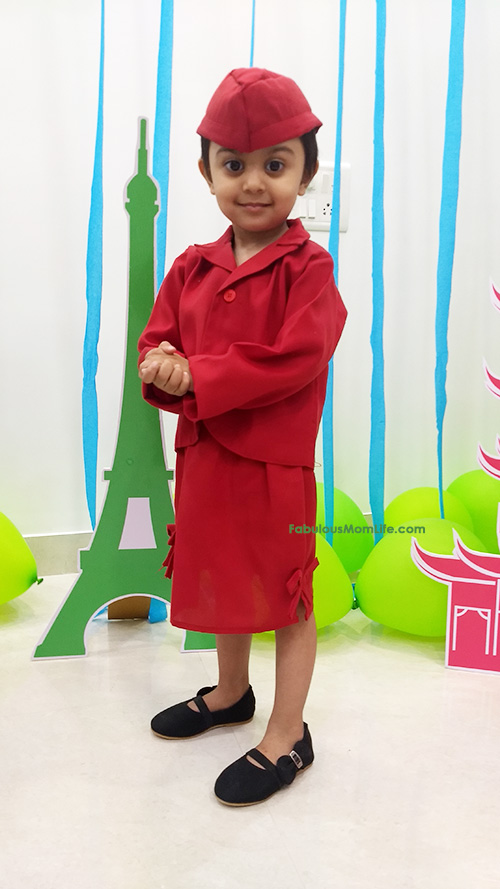 Here's our little Air Hostess posing before the Eiffel Tower 🙂