Homeschooling is a new but growing concept in India. With awareness spreading about the benefits of homeschooling, many parents are looking for options beyond the traditional schooling system. To cater to their needs, we actually have a complete K-12 (Kindergarten to 12th) education system in India that is completely virtual – a school at home! Sharing more details about iNaCA (International Connections Academy) in India and why virtual schooling is a great choice for many, in today's post.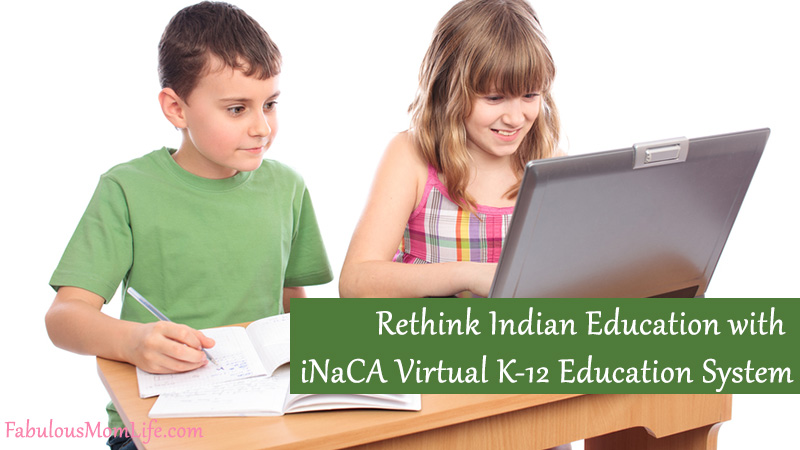 An Online School Is a Great Choice in Many Situations
You don't really need a reason to look for an option for education. Our traditional education system is not everyone's cup of tea. I would be lying if I said I have never considered homeschooling! And yet, there are some situations that can benefit a lot with a virtual education system. Here are some examples of how it can help you:
Offers personalized academics for students pursuing passion in Sports, Music of the Arts
Families, both native to India and expats living in India, who are looking for an American K-12 School
Children who have missed their school admission cycle
Children with learning differences who are highly gifted or students for whom mobility is limited due to physical disabilities or those who have Attention Deficit Disorder and other special needs
Accredited School-at-Home Options – Personalised learning environment
Occupational restrictions like commuting to school is sometimes not possible due to a number of reasons
Pearson brings first-of-its-kind American iNaCa Education System to India
Pearson,the world's leading learning company has launched the first-of-its-kind Virtual International K–12 Education in India with International Connections Academy (iNaCA). It was a joyful piece of news for me! A lack of choices should never be the reason for our decisions, I believe. This virtual school brings U.S. accredited education directly to your desktop, with a flexible world-class curriculum for students studying in classes K.G to Class 12. The system aims to help students learn in their own way and at their preferred pace through a personalized and engaging experience that includes various multimedia tools such as enhanced videos, social, adaptive and game-based learning.
About Pearson
Founded in 1844, Pearson is the world's learning company, with 35,000 employees across 70 countries worldwide. They have expertise in educational courses and assessment, and a range of teaching and learning services powered by technology. Their mission is to help people make progress through access to better learning.
They are organized around three key stages of learning – a) K-12, b) Higher education and test preparation and c) Vocational and professional education. Established in India since 1998, Pearson has introduced its wide range of products and services in educational institutes as well as directly to the learners.
About International Connections Academy Education System
A quick search will tell you that the iNaCa education system is one of the top home learning systems preferred by Americans. As Vikas Singh, Managing Director, Pearson India said, "Personalized learning and real-time analytics have become essential to help in a child's holistic development. Having recognized these needs, the iNaCA brings an advanced approach to learning that can help maximize the potential of each student. Our unique curriculum, experienced teachers and an immersive global classroom experience are designed to address the challenges faced by a student today and facilitate his/her progress in the best possible manner."
iNaCA enrolls students from more than 50 countries around the world, who have multiple opportunities to interact with one another and share details of their culture. It is a wonderful opportunity for Indian students! The Academy prepares students around the world for post-secondary success. The school has a 100 percent college acceptance rate, with graduates attending elite universities such as Yale, UCLA, and Julliard. iNaCA students outscore their peers across the US on the SAT and ACT college entrance exams, and beat the global average on AP exams.
The Virtual Schooling Experience
The virtual school setting of the iNaCA enables students in any part of the world to make full use of its unique curriculum. The flexible learning environment puts students in touch with highly-qualified, U.S. licensed teachers who can provide essential guidance and support. The teachers personalize lessons, evaluate student progress and provide feedback and assistance through real-time virtual sessions to offer a targeted support based on student learning.
In line with the vibrant global school community, iNaCA students participate in online special interest clubs and activities from the Robotics Club to Student Newspaper, from the Chess Club to Quiz Bowl – with peers from around the world. This helps students develop extra-curricular skills and develop their personalities beyond the classroom in an international setting. Additionally, the academy offers a U.S. recognized diploma to high-school students, which is accepted by various colleges and universities, including Harvard University, Cornell University, among others. 
Learn More:
I have given you a bird's eye view of virtual learning through iNaCa. You can do much more research through these links:
Videos on iNaCa Education System
​https://www.youtube.com/watch?v=eo5Y2atqvkY and
https://www.youtube.com/watch?v=cDZ1y3eLuN8
Testimonials of students enrolled in iNaCA:
Link 1: https://www.facebook.com/InternationalConnectionsAcademy/videos/1653543461329176/
Link 2: https://www.facebook.com/InternationalConnectionsAcademy/videos/1378593698824155/
To know more about Pearson India visit in.pearson.com and follow us on www.facebook.com/PearsonIn and https://twitter.com/PearsonIn
P.S.: The last date of enrolment is 15th October, 2017!