As you must have seen on my Instagram, my kids and their friends are gearing up for the neighborhood Christmas Bazaar. The endeavor which was, until now, to sell some handmade crafts, has turned into a full-blown business idea. Kidpreneur by Trunk Works has armed the girls with a lot of business knowledge and some very essential skills. And it is not just the girl gang anymore. Kidpreneur has inspired even my son to put up his own stall at the Christmas bazaar!
The Need for Entrepreneurship Skills in Children
My one pet peeve about our education system has been this for a long time – that we do not prepare students for entrepreneurship. I am all for public schooling systems as opposed to homeschooling, but I do believe that all our educational methods only prepare the children for taking up a job. Having successfully owned and operated my blogs for over 15 years now, I am not inclined towards jobs. That doesn't mean I will discourage my children from taking up a job. But I think they should be exposed to every career option equally – and that includes being an entrepreneur.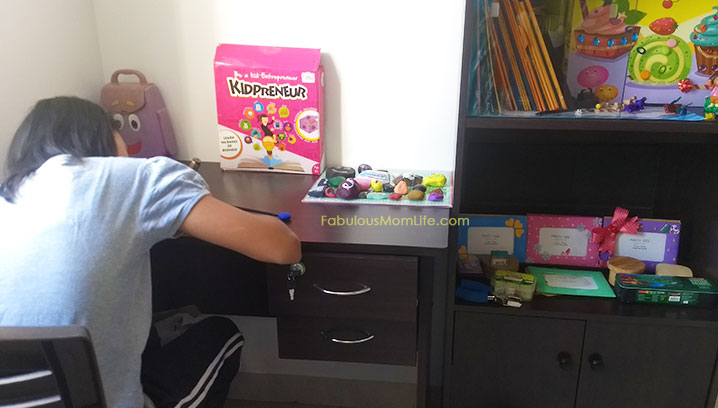 Like I said, I am all for public schooling. Whatever it lacks, I try to make up with my own efforts. My children have already grown up seeing my work and life and I try to equip them with some knowledge of 'alternative' career options. Alternatives to taking up jobs, I mean. And yet, I had never been able to explain to them the concepts of business in a manner as simple as how Kidpreneur does.
Kidpreneur Review
Mom+Entrepreneur = Mompreneur
Kid+Entrepreneur=Kidpreneur!
When Saloni from Trunk Works LLP explained to me the concept of Kidpreneur on phone, I was instantly excited. My daughter was planning to put up a stall with her friends and I thought she could use some pointers from Kidpreneur. Little did I know that it was going to change the way my kids looked at a business! I will explain with the help of pictures how Kidpreneur is a revolutionary gift idea for older kids.
Attractively packaged. Kidpreneur comes in two different themes. One is traditionally girly while the other is sporty. Now I try to do away with the Pink and Blue thing, but in this case, my daughter was actually planning to sell crafts which is what the Jewelry box theme focuses on. So it was perfect for us.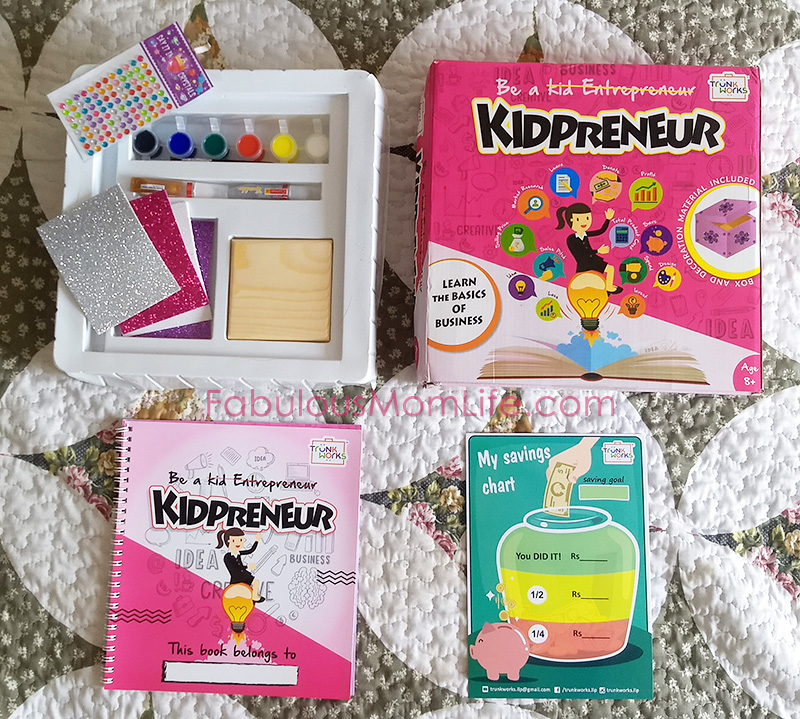 Here is what you will find inside the package:
All materials to make your first craft for selling – a wooden jewelry box
A book/journal
A Savings chart
Now the kids are going to be super excited about the crafting part, but do you see that book over there? That is a GEM! I recommend all parents to go through it themselves. Never has business been explained in an easier way. I see most grown-ups skipping through some essential steps mentioned in there, which are crucial for the success of any business.
Explaining the Concepts of Business to Children (and Adults)
Most people think of business (even the business of blogging) as just about having a product or service to sell. That is true but only partially. A big part of whether or not you will make a profit, depends on the pre-launch exercises that you do. I have seen many businesses fail because of the simple reason that they did not do enough research before starting a business. Taking my own blogs for example, I wouldn't launch one without knowing whether or not there is an audience for it, which niche has takers and who is my competition. Unfortunately, people do half-baked research and we see so many businesses shutting shop every day.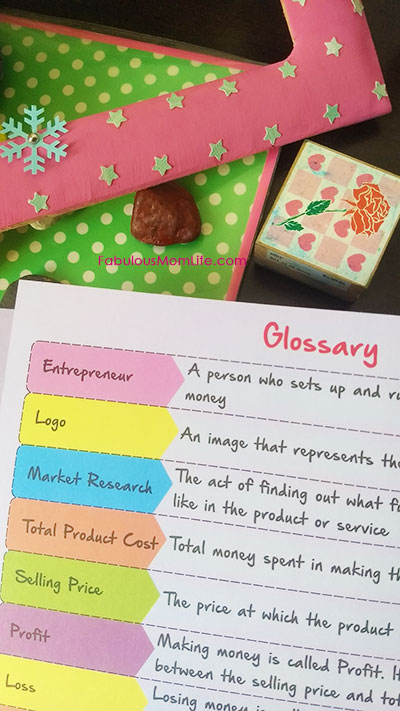 Without giving away the entire content of Kidpreneur, let me tell you that it is like a business school for little children. Step by step, it enables children to sail into an unknown territory with ease and confidence. Simple details have been pointed out and insisted upon, which are easy to miss otherwise. The kids were not even bothering to think of a name for their business! But now they are thinking long-term and understand the importance of building their brand should their customers look for them next year too! They have an understanding of what goes into the making of any successful venture.
Final Thoughts
On the pretext of starting a business of selling hand-painted or decorated jewelry boxes, Kidpreneur arms children with business knowledge to start any business. My daughter and her girl squad are using the information to sell all types of crafts and even a food stall.
And with all the discussions of cost price and selling price going on, my math (and food) loving son is inspired to put up his own stall too. There is nothing I could ask for more! He has always been the younger brother. Helping him develop confidence and not be constantly in the shadow of his sister is an important part of my parenting. So when he asked for money to go and book his own stall, in his own name – I could only beam and thank Kidpreneur for this much needed push!
Knowledge gives you confidence. And that's what Kidpreneur does. It gives children the necessary confidence to pursue an entrepreneurial career path by arming them with the required skills. Along with confidence of doing the right thing in the correct manner, I am also seeing leadership skills, general smartness and decision-making abilities building up in my kids. This morning, my son told me exactly how he wanted his logo to be!!!!! And I spent a year designing my logo and am still not so sure LOL!
I fully, truly recommend Kidpreneur for all older kids. Although it is recommended for ages 8+, my 7 year old is enjoying it too. This is the perfect gift to mix fun with education. Trust me, the kids will learn a whole lot of real like skills while having a fun time. Hey! Who does't have fun making money? Business is addicting if you ask me 🙂 Kudos to Trunk Works for coming with this genius idea. I am officially making it my top gift idea for older kids.
Shop Online & Offline
You can shop for Kidpreneur at Hamleys Stores across India and online at Amazon.
Check it out at Amazon but don't buy it yet! It is soon going to be on Lightning Deal. Grab it on these times and days:
Kidpreneur Sports – 19th December – From 6.10 AM to 2.10 PM will be available for INR 999 instead of INR 1199
Kidpreneur Jewelry – 23rd December – From 3.20 PM to 11.20 PM will be available for INR 999 instead of INR 1199
Or add it your cart or wishlist. And then Amazon notifies you when there is a lightning deal on your wishlisted products. Happy Shopping!