You know that mad rush before guests arrive? You are busy ensuring that everything is perfect and the rooms look spic and span. That last speck of dust and the keys that your husband left on the table are all cleared up to perfection. But the grand finale for me is a spray of Air Freshener. They have been a integral part of my home for quite some time now. Sharing some of my staples and favorite ways to keep my home smelling fragrant.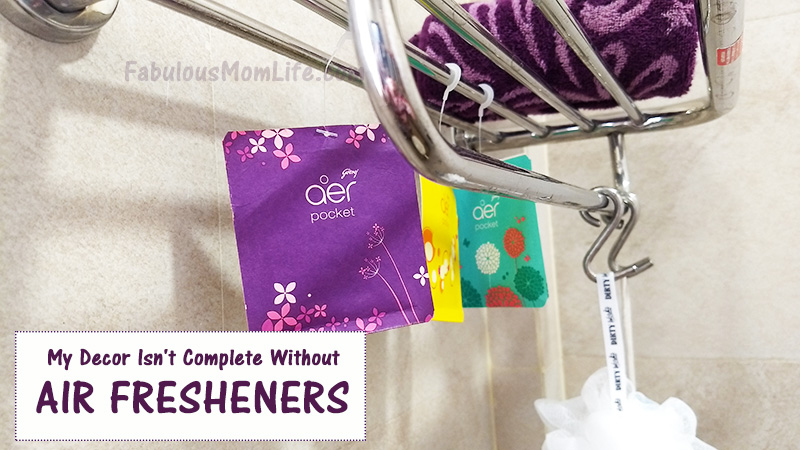 Nothing beats a jar filled with fresh flowers or a few buds of sweet smelling Mogra. Alas, they are not always available and I make it a point to only use flowers that have fallen off on their own. To keep my home smelling fresh, I have other favorites – candles, reed diffusers, scented drawer liners and air fresheners. With the constant need for fans, candles are a once-in-a-blue-moon indulgence but I love my collection nevertheless. And I love to pick up interesting oils for my reed diffusers whenever traveling. But for my everyday needs, I have on hand a selection of Godrej Aer fresheners.
It All Started with the Car
I have to thank my husband for introducing them to me. He is probably in as much love with his car as he is with me. Always the first one to bring the latest product off the shelf, he showed the new (then, new) car air fresheners. We (that is me and the kids) have to approve of any car perfume before it becomes a regular. Our love for road trips makes us all take great interest in the interior environment! We like the Cool Surf Blue for the car and my husband is fond of the new 'Click' range of gel car perfumes that are also spill proof. I personally like the "Lush Green' for my own hatchback.
A Must for My Bathrooms
So when the first time I saw Godrej Aer for the bathrooms, I was already aware of how well the eco-friendly air fresheners work. Guests or no guests, air fresheners are a must in bathrooms every single day. We have replaced our old bathroom fresheners with Godrej Aer for months now. The 'Pack of 3' has been in my monthly grocery shopping cart at Amazon.in for many months now. They are very convenient to use and hang easily on the back of my towel rods. I keep the 'Morning Misty Meadows' fragrance in my own bathroom, the 'Bright tangy delight' one is for the kids bath and the 'Violet Valley Bloom' is for my in-laws. They like the subtle lavender like fragrance of it. It is pretty much the norm and my kids will notice if I switch the perfumes. My son reminds me religiously every month that Godrej Aer works for 30 days (TV Advertisements of course!) and that I should order new ones in the 'Super Value Day'. Lol, my kids are going to exceed at this skill called online shopping I tell you!
Home Fragrance
And last but not the least! My favorite finishing touch – Home Fragrance Spray. Violet Valley Bloom is my preferred choice but we do alternate with Morning Misty Meadows. A quick spray in the drawing room, kitchen, entryway porch and a little in the outside corridor leading up to my door is how we do it. That ways, the fragrance is in the air as soon as guests step out of the elevator on my floor. It makes everything calm and soothing and gives a great impression of the house and the get-together that follows.
Which are your favorite ways to make you home fragrant? Do share in the comments 🙂