'The Story of You' is their tagline and rightly so! When you browse through the lovely products and design options that Clixicle has to offer, you will want to preserve your precious memories in more ways than one. In my Clixicle review, I will share my thoughts on their beautiful photo books and our latest addition to the fridge – a personalized fridge magnet!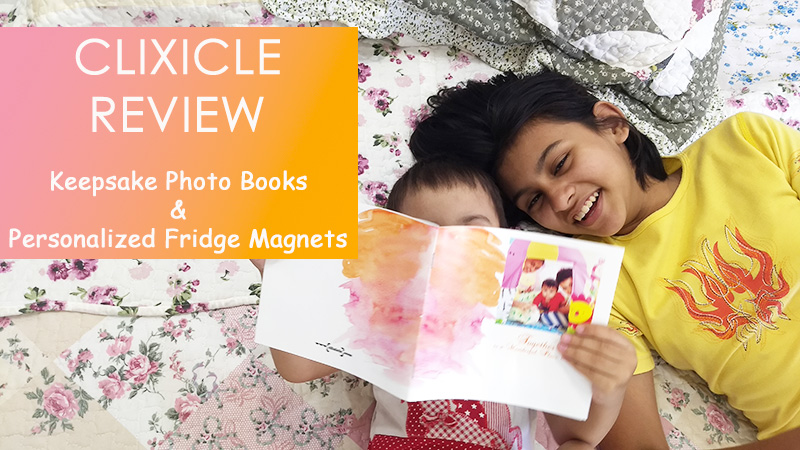 Clixicle Review
Clixicle is a lovely photo printing service in India that offers a variety of ways to print your 'stories'. While I can never have enough of photo books to capture those childhood memories, I was also excited about the custom photo magnets, luggage tags and personalized stationery! And the best part is that Clixicle team does the entire work for you. You do not have to sit for hours trying to upload, edit and then fearfully click the 'I approve' box hoping that you did not goof up anywhere! Just email them your photos or share a link to your drive and they do the job for you. You can also, of course, upload directly when placing an order.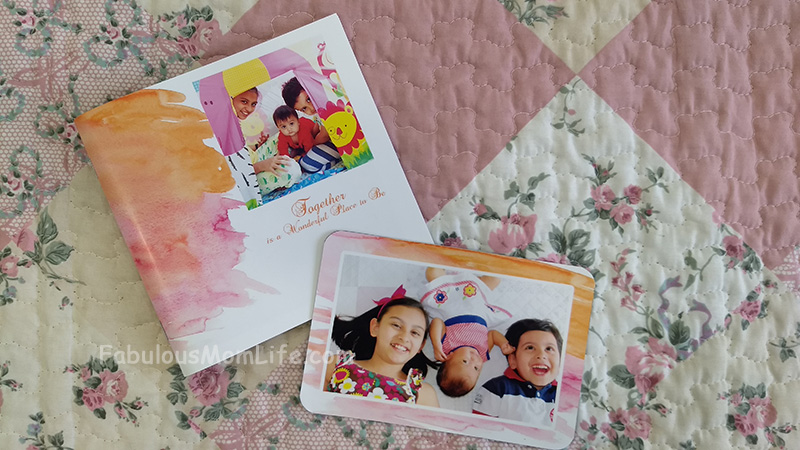 When Clixicle got in touch for reviewing their products, I immediately set off to browse their designs. Have I mentioned I love watercolor designs? Well, I do! I chose this lovely watercolor effect design for both my chosen products – a photo book and a photo magnet.
No prizes for guessing whose photos I wanted to get printed. After putting my friends and family in a dilemma as to who's who in their Guess Who photo book, I wanted to bring some of their 'together' moments in an album. And there is nothing better than looking at their faces when opening the fridge every single time 🙂
Clixicle Photo Book
In my easiest ever photo book creation, I only had to upload my chosen pictures to a folder on my Google drive and share the drive with Clixicle team.
I told them my chosen name for the title (my son did not get it at all! Lol…I hope someday he does) and they did everything else.
In a few days, I received my photo book and magnet made with perfection.
Clixicle Personalized Photo Magnet
This personalized fridge magnet was new to me and I was very excited about this. I chose one of the first pics of my kids together, for this magnet.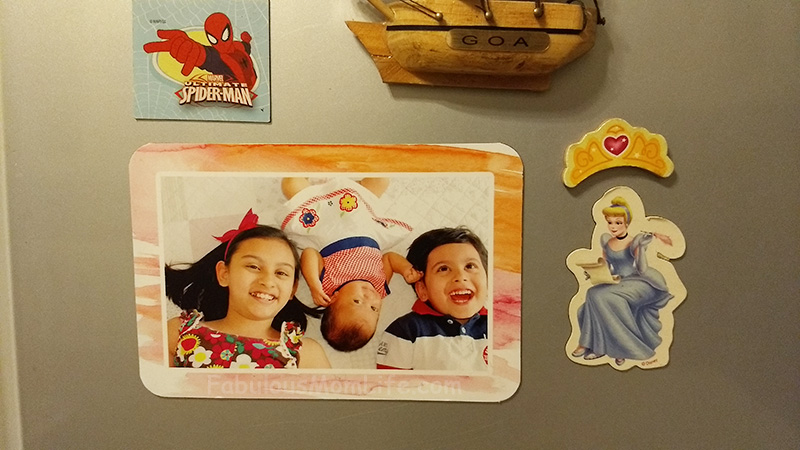 It is a very precious memory for me and I don't think I can get tired of looking at this as I work in the kitchen. I was expecting a much smaller magnet but was pleasantly surprised with the size. It is a full blown 4 x 6 inches picture printed on a thick, flexible magnetic strip.
Final Thoughts
Both the products – the photo book and the fridge magnet are extremely goon in quality. The printing is perfect and gives you nothing to complain about. My kids absolutely loved seeing their pictures (they always are!) and went crazy about the fridge magnet. Big sis ran off to display it proudly on the fridge and arranged the other magnets around it too 🙂
The one thing I could think of, that would make the experience better, was an option to add captions to some of the photo book pages. It would be nice to add an anecdote or a description or date to some of them. But for the very affordable price of INR 299 and 199 for the photo book and fridge magnet respectively, I am a happy customer and would surely order again!
You can also look for specials and discounts by connecting on their Facebook and Instagram profiles.