Vivaan – Viraj and Ria Mohan's son, was diagnosed with Autism, throwing the parents into a desperate situation that can only be imagined. The six-and-a-half years old Vivaan was evaluated to a neurological Age of just 29 months. After a struggle of denial, anger, depression and acceptance, fate lead them to Doman Method. When re-evaluated after two and a half months of programming, Vivaan's neurological Age had gone from 29 months to 41 months! Their incredibly miraculous experience has led me to share with you today's post.
The journey of Parenting itself involves a great many challenges. Especially the health of a child affects the social and psychological life of the parents to a great extent. For most parents, the week of high temperatures and doctor visits is a big trial. But for another set, parents of special needs children, this has become a constant picture of their parenthood. And it is you, the anxious parent who is reading this, that I want to convey this to – There is help at hand!
---
October 2018
India Contact – Ms. Jagjit Kaur
Email: jagjit@domaninternational.org Ph: 9899506768

---
Coping with Children's Cerebral Palsy, Autism and Other Special Needs in India
I understand that your life as parents facing cerebral palsy, autism and other neurological disorders in your children is a constant challenge. You will completely be able to relate to this heartwarming article about parents whose children are brain-injured in some manner. The situation of parents of special needs children can become extremely complex because they have to cope with the impact of their child's illness psychologically, physically and financially. It is a test – a crisis – that can change the dynamics of family life and even a previously defined relationship situation. And the one thing that you need to cope with all of the above is help from a trusted source.
For years now, Indian parents have been making trips abroad to find specialized help programs that will give them the much needed support. And the great news is, that the tried and tested 'Doman Method' is now coming to India. No more foreign trips needed. You can meet the international experts right in your country. You can register right away for their Parent Training program to be held in Delhi next month.
---
---
Neurological Disorders in Children
Whether diagnosed or not, a brain injury takes a toll on the physical and mental health of children. Some of you may have already been to doctors and understand where you stand. Some others might have just seen some warning signs. If you are reading this, you belong to either of the above two – or are concerned about a near and dear one. Staying alert to every change and getting a proper diagnosis is the first step you need to take.
It is usually the mothers who notice such signs first. Despite a medical reassurance that all is well, a mother can sense little things. Look out for symptoms of conditions that might affect the brain, central nervous system, or muscles. Here are some things to look out for, so any neurological disorder does not go unnoticed and is diagnosed early on.
Perhaps your child has low muscle tone?
Or has been on anticonvulsants?
Do you notice a significant speech and understanding delay?
Or do you think there is more than a normal delay in developmental milestones?
Any major sensory issues?
You might notice an increase or lack of growth in head size.
Or a startling lack of coordination
Tremors, Seizures?
All parents are anxious when it comes to their children but trust me, you will know when something is serious enough to bother you. At such a time, you need proper diagnosis and a tailor-made treatment plan that works for you.
The Doman Method, A Home-Based Treatment
Chances are that most of you, through your ongoing research on the subject, have already heard about the 'Doman Method'. If you haven't, let me tell you more about it. I will also provide plenty of links to resources below which you can visit and see for yourself how this method works.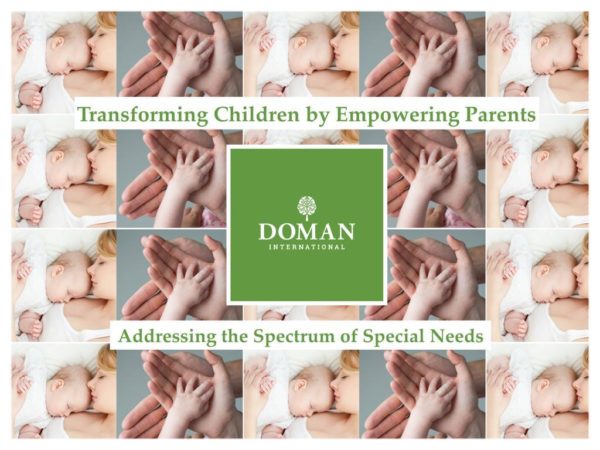 The Doman Method is an an-home program which was developed 65 years ago by American Physical Therapist Glenn Doman, who is a Pioneer in the treatment of brain-injured children. Doman noticed that the same therapy which worked fine for adults, did not show results when given to kids. He realized that the role of Parents is crucial in child development. In fact, the Doman Method believes that parents are the best therapists for their children. Coupled with special training, and their intrinsic love, concern and dedication to the well-being of their child, parents are empowered to bring their children's development on the right path.
Read: What is the Doman Method
What to Expect in the Training
The Parent training imparts the necessary tools for a holistic approach, combining together:
Nutrition
Physical Development
Intellectual and Cognitive Development
Sensory Integration
Speech Development
Language Enhancement
Ayurveda
Overall Health and Well-being
The legacy of Glenn Doman is continued forth by Doman's children and grandchildren who have formed Doman International that has helped parents in many countries worldwide. Today, the Doman Method continues to be the most effective methods to cope with neurological disorders in children. You can read more about them in the book 'What to do about your brain injured child' penned by Glenn Doman himself.
The Success of the Doman Method
Families worldwide have found their answers through the Doman Method. I will share some beautiful success stories ahead, but first let me tell you about the variety of cases that found the Doman Method beneficial. Over the years, proper guidance and tools have been provided parents, whose children have been diagnosed with:
Cerebral palsy
Autism
ADD/ADHD
PDD-NOS
Developmental Delay
Epilepsy
Brain Injury
Trisomy 21
Other Genetic Abnormalities
Learning Difficulties
Other Developmental Disabilities
Other Neurological Conditions
You will find a lo of information on the progress of children benefiting from the Doman Method on their Facebook page. And do read 'Why the Doman Method Course?'.
The Doman Method in India
Many Indian parents have benefited from their program. And it was due to the efforts of one such happy parent that the program is now making an entry in our country. It isn't difficult to figure out that it is not possible for all Indian parents of special needs children to make frequent trips to USA. To make the program easily accessible, Doman International is conducting a DMC in Delhi in October 2018 where you can meet their core team and learn from them their effective techniques.
Indian parents can connect directly with Ms. Jagjit Kaur.
Ms Kaur is the Indian and Asian representative for Doman International. She can be contacted by email at jagjit@domaninternational.org or reached at 9899506768 . She is also an Intellectual staff expert of Doman International and can help you with any queries you have for your child's special needs.
You can also, at any time, contact Doman International directly at https://www.domaninternational.org/contact/. Mommies – Daddies – you are not alone! This is the time you can use all the help you need. And make sure to get that help from the experts. Wishing you a wonderful parenthood ahead!